Neil Lennon is loving life at Celtic
Neil Lennon has said he would stay at Celtic for the long term if the club are in the Champions League every season.
Last Updated: 27/09/13 9:29pm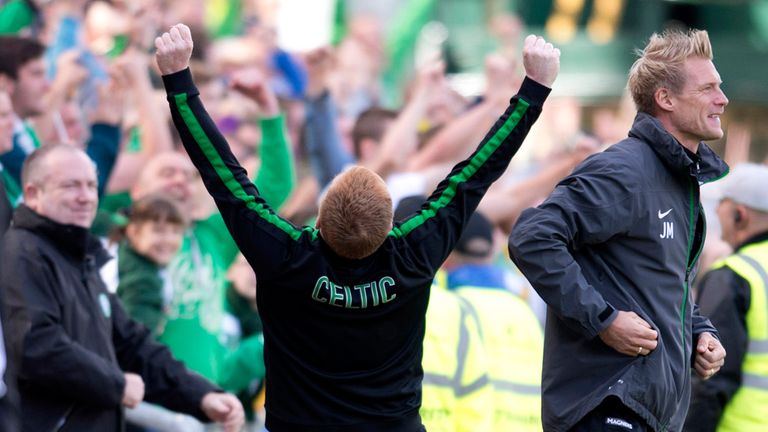 The Scottish champions take on Barcelona at home on Tuesday looking to repeat last season's famous 1-0 win over the Spanish giants.
Lennon believes lighting can strike twice and his side can pick up their first points in Group H after an opening 2-0 loss to AC Milan in the San Siro.
Lennon told Sky Sports News: "Why not? We beat Barca last year, we'll have to play again at that level of intensity, concentration, defend well, maximise the opportunities that we get when they come.
"I think Barcelona again have started the season very, very well. I think they'll be hurting from going out at the semi-finals last year, I think there's some players there who still have to prove themselves at Barcelona at that level which is the highest level.
"They have a new manager obviously but the infrastructure behind is still in place and of course they have got Messi who is a very good player.
"It's going to be monumental, it's going to take another huge effort but you never say never."
Happy
As regards his own future, he added: "If you guarantee me Champions League football here every year, I'd be quite happy to stay for however long the club want me to.
"The fanbase, the buzz you get, the excitement, the Champions League nights, allied to that you're in a club with a winning mentality as well.
"A lot of players do regret leaving, whether it be for financial reasons or whether it be for they think it's progressing their career and they find out very quickly that maybe they didn't realise they had it so good where they were."
Lennon's name has been linked with recent Premier League vacancies and he agreed it was both flattering and off-putting, adding: "It's flattering - people maybe think you're doing a good job here, you are trying to be consistent and take Celtic forward and the last couple of years we have turned a lot of heads which is brilliant for us all.
"It can be a little bit unsettling because there is no substance to it, it is just what it is - speculation - and it doesn't detract my focus from the job at all.
"It is nice to be linked with these jobs but it would take a hell of a lot to leave Celtic, there's a lot to give up here and, at the minute, I'm liking what I'm doing."
Delighted
Lennon has been delighted with the start his side have made to the campaign after losing players of the calibre of Victor Wanyama, Gary Hooper and Kelvin Wilson in the last transfer window.
"Obviously Tuesday's (the cup loss to Morton) is the exception, disappointing, but up until then I think we've been excellent.
"We have qualified for the Champions League through six tough games.
"We lost three top quality players in Wanayma, Hooper, Wilson.
"We are still blooding in the new boys really, they are still finding their feet but the players who have performed very well for me for the last couple of years are still doing that.
"We are five points better off in the league than we were this time last year so it's been a very good start and I've been very, very pleased."