Manchester City keeper Joe Hart waits to learn if he will start against Everton
Manuel Pellegrini has told Sky Sports News he has not decided whether Joe Hart will play against Everton on Saturday.
Last Updated: 05/10/13 12:06pm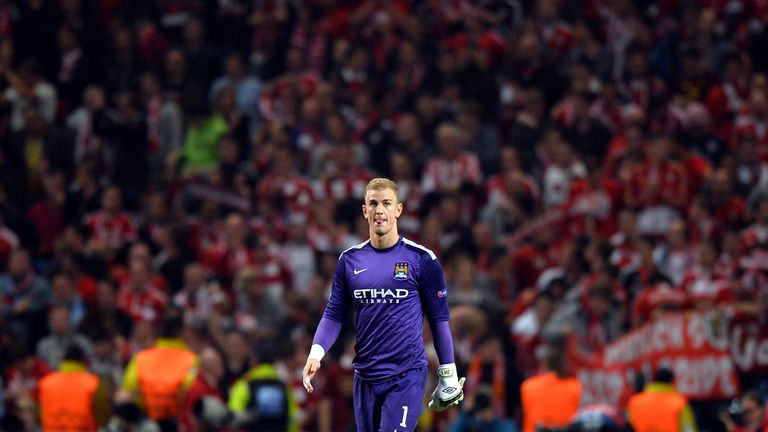 Pellegrini says Hart, who has been criticised for his performance against Bayern Munich in midweek, has to improve but is confident he will do so.
The City manager said: "I will decide tomorrow (Saturday) if he starts. I don't tell you now if Joe will play because the players don't know yet, I am always contemplating different things.
"Of course Joe knows he must improve the way he is playing but he has our trust. Tomorrow I will decide.
"Of course, he feels that he didn't do very well but I think he doesn't have any problem.
"He continues with the trust of all the team and with our trust so we hope he will recover soon from what he did last match."
Pellegrini insisted he did not hold Hart solely responsible for some of the errors City have made in recent games despite some high-profile blunders.
"The three goals we conceded against Bayern Munich were not only Joe Hart's responsibility for what happened," he said.
"After the game, and after every game, I always speak with all the players, not only with Joe. We analyse what we did in that match. We look at the game, also when we win, it's normally a debrief after every match.
"They are all different goals but at least four of the six we have conceded in our last two matches are due to a lack of concentration. That's very important. To not only play well but have a lot concentration in matches. You must concentrate for the 90 minutes."
One of the criticisms levelled at City is that there is a lack of serious competition for the No 1 jersey but Pellegrini insists Romanian Costel Pantilimon, who has yet to make a league appearance in his two years at the club, remains a viable alternative.
He said: "Costel Pantilimon is a very good goalkeeper also, he has all the rights to play.
"He is working hard and I am absolutely sure, if it is tomorrow or another game and he must play, he will do well."