Dennis Bergkamp sets sights on Arsenal return and hails Mesut Ozil's impact
Dennis Bergkamp would love to come back to Arsenal one day as a coach, and says Mesut Ozil could be the 'missing link'.
Last Updated: 09/10/13 12:17pm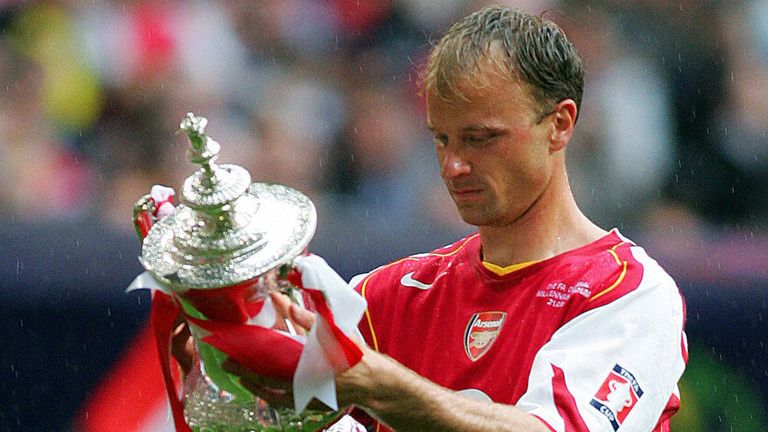 Dutch legend Bergkamp spent 11 years with Arsenal before retiring in 2006 and he says the club still hold a special place in his heart.
He is currently assistant coach at Ajax and has no plans to leave for at least a few years, but admits he would love to return to north London at some point in the future and perhaps work with some of his former team-mates such as Patrick Vieira and Thierry Henry
"At Arsenal it was a good click. I always enjoyed it. I never had a bad day there. It is always on my mind. It is part of my ambition to come back at some stage," Bergkamp told the Daily Telegraph.
"I can't really plan ahead. I know I will be here [at Ajax] for at least another three or five years and then I don't know. I don't see myself being at Ajax for the rest of my coaching career. I don't see myself as a manager.
"I see myself as being part of the coaching staff. I really enjoy that role, especially the individual training with the strikers.
"I've spoken to or have heard about others [former Arsenal colleagues] who would also love to come back.
"Steve Bould is there now which is excellent. I've spoken to Patrick Vieira and Thierry Henry would love to come back to Arsenal one day. Tony [Adams] is a big option as well."
Arsenal have not won a trophy since Bergkamp left the club but have made an impressive start to the new season and have been helped by the summer arrival of Ozil from Real Madrid.
Record signing Ozil has been likened to Bergkamp and the former Netherlands international is a huge fan, saying that he could make the difference for Arsenal.
"I don't like comparing. We're all unique. But I do understand the similarities people see and I believe he can be very important to the team," said Bergkamp.
"It is still early days. He is a tremendous player with a lot of effective skills like controlling the ball, making creative passes and assists, taking the right position in the field every time. And he's extremely experienced.
"Putting all that together I think you've got a player who can be the missing link in the Arsenal team, a player who will make a striker score goals, who will link up in Arsenal's position-game and who will score goals as well.
"Ozil knows exactly how to control the ball in what kind of space to give himself time. That's the difference between the players and great players. With his intelligence and his touch and his skills, he is trying to do something right with every ball.
"With all the respect to the other Arsenal players, I think he is the one who can make a difference. The other players are good in midfield. But you need someone of a high level who can be good in all areas of the pitch."
Pressure
Bergkamp has suggested that Arsenal might look to sign a striker in the January transfer window, but he has faith in Wenger and hopes they will end their long wait for silverware.
Speaking about Wenger, Bergkamp said: "He wants to win trophies of course. It's in his nature. There are probably more reasons why Arsenal hasn't been successful over the last few years than we know of.
"For a lot of years Arsenal has been a healthy club with a fantastic big stadium, and good football. But now we all feel that it's time that we leave that story behind us.
"You know, paying for the stadium, playing good football, bringing up a few good players. Now you feel 'OK, now it's time to get going, to really make an effort and win a trophy'.
"At some point the club was like: 'Let's get Champions League again for next year, and we'll get the money in again and build up and hopefully win a trophy'.
"But that didn't happen so now there is more pressure than ever. Can Arsenal go all the way and win that trophy? The signs are good.
"I still feel up front there should be a few more goals. Maybe in the winter transfer window they might look at that. But I think there is a chance to get to a higher level with the team."