FA Cup: Hooliganism disrupts Atherstone Town's clash against Barrow
Atherstone Town's FA Cup third qualifying round home match against Barrow was marred by hooliganism on Saturday.
Last Updated: 12/10/13 8:23pm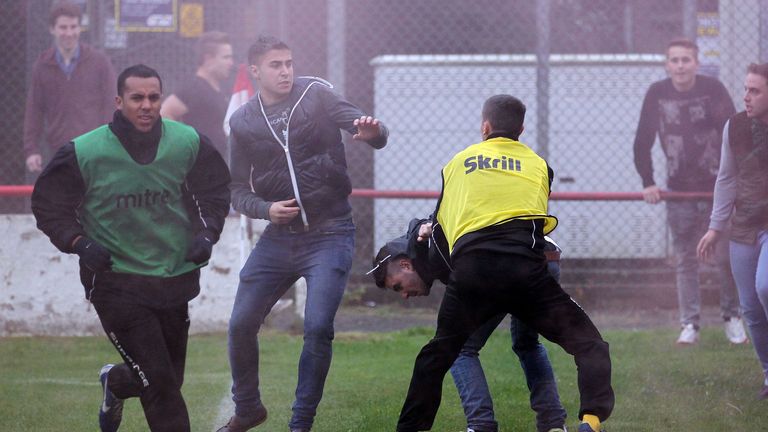 With Atherstone trailing 4-0 at half-time, a group of home fans, around 30 strong, ran across the pitch and aggressively entered a section of the Sheepy Road ground containing Barrow fans.
It emerged that one supporter managed to get as far as the Barrow dressing room door, where he threatened a player.
One elderly supporter was injured and reported by bystanders to have been left bloodied, while Barrow substitute Greg Mills, out on the pitch during the interval, was seen tussling with an Atherstone fan after being confronted.
A flag belonging to the Barrow supporters was taken during the half-time altercation by Atherstone fans, who attempted to burn it.
The match was held up, with the start of the second half delayed by more than 10 minutes.
It finished 4-0 in Barrow's favour, with a number of away supporters seen departing soon after half-time.
Barrow club secretary Russell Dodd was at the game and said: "Just as the half-time whistle sounded, a group of home supporters ran across the pitch to the Barrow fans.
"Flares were thrown at the Barrow fans and punches were thrown too. One or two had grazes including an old chap who had been to the toilets, walked back in, and got punched in the face.
"Our substitutes were warming up and got attacked too. The players ran off, assisted by the Atherstone substitutes, and there was an incident in the tunnel too when a fan got in and knocked on the dressing-room door.
"He didn't get in, but he said he wanted a word with one of our players who went out and was threatened.
"The Barrow fans who travelled were magnificent. Some fans left at half-time which was quite understandable.
"We spoke to the home club afterwards, and the referee was aware of the incident in the tunnel which he'll be reporting."
Atherstone chairman Rob Weale offered a swift apology for the disturbing scenes.
He said: "I am personally embarrassed about the scenes here at half-time. It was unacceptable. Obviously, we will be pursuing the perpetrators.
"We will work alongside the security officers, the referees and the police and those people responsible will feel the full force of the law.
"The situation was defused as quickly as possible, the police came in to take control but once it has happened it has happened and I apologise to the Barrow fans."