Arsene Wenger 'fears the worst' over Sir Alex Ferguson's new autobiography
Arsene Wenger joked that he "feared the worst" about what Sir Alex Ferguson might write about him in his new book.
Last Updated: 23/10/13 8:54am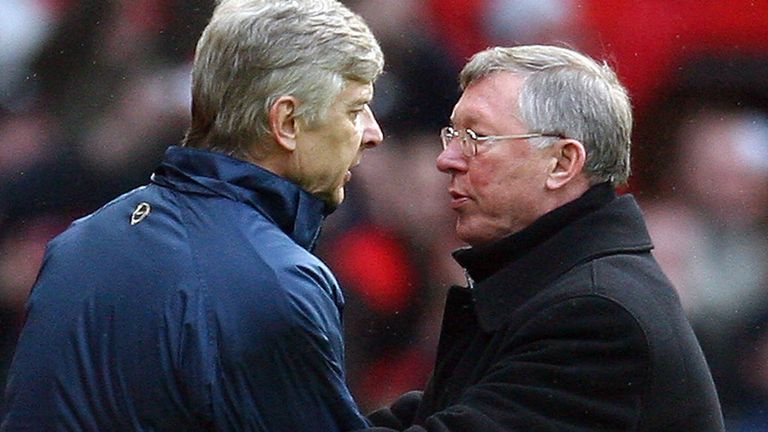 Ferguson will officially launch his new book on Tuesday, with many expecting him to be forthright about his relationship with the Arsenal manager, with whom he enjoyed a spirited rivalry - including the infamous 'Pizzagate' incident at Old Trafford in October 2004 where representatives from both sides were involved in an ugly fracas following the end of Arsenal's unbeaten run after 49 games.
The relationship between the pair mellowed in the seasons before Ferguson's retirement but Wenger will be just as keen to know what revelations are included as the rest of the football world.
"We all fear the worst!" Wenger said at Monday's press conference ahead of the Champions League tie against Borussia Dortmund.
"I think it is good that he makes a book.
"Maybe he does not have enough time to think about his whole career, it is a bit short between the moment he stopped and the moment he brings his book out.
"But maybe there are some other books coming later, so it is an autobiography there could be two, three or four versions of it."
However, Wenger said it would be wrong for people to continually compare David Moyes with Ferguson's achievements at United, especially given their troubled start to the season.
"You do not want his personality to be a handicap for the club, you want him to be remembered as someone who has done extremely well for the club," Wenger added.
"It is rather to be a positive influence on Manchester United."
The Red Devils are currently eight points off the pace set by Arsenal, having taken just five points from their opening four home games.
The recent Old Trafford loss to West Brom was followed on Saturday by a 1-1 home draw against Southampton, but Wenger believes it is far too early to rule United out of the Premier League race.
He said: "It is too early. They are not out of the title race.
"Are Man United out of the title race? No. You cannot rule Man United out today.
"They have big players, big experience and they are a big club.
"The gap is three games basically that is very quick in our league."