Sir Alex Ferguson blames contract issues for Wayne Rooney rows in autobiography
Sir Alex Ferguson has insisted that his relationship with Wayne Rooney remains fractured because of money.
Last Updated: 23/10/13 8:09am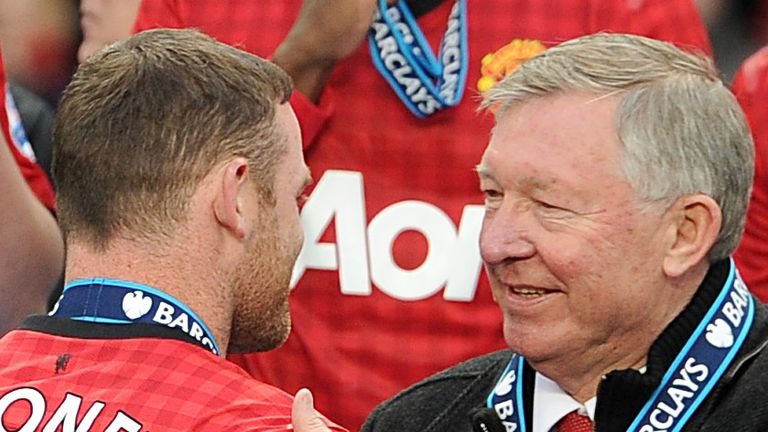 The former Manchester United manager fell out with his star striker last season over his form and fitness and has consistently claimed the 27-year-old said he wanted to leave the club.
Ferguson admits that Rooney was initially unhappy about the game time he was getting and the position he was being played in.
But the England player remains angry and Ferguson claims that is because financial bonuses could have been put at risk.
The 71-year-old told Sky Sports: "This is the nub of it: in the regulations, in your contract, if you write a letter and ask away or say you have asked away, you lose all your signing-on fees.
"He has never admitted that and never put in a written transfer request, which is what he has been sore at."
Asked if he was clear that Rooney had made a verbal request to leave the club, Ferguson said: "Yes, that's right."
He added: "My memory is he asked away because, he said, he was not going to play in his proper position. I can understand that.
"That's not a problem with me. I can only go on evidence on the football field. He wasn't playing well enough.
"Now, we see Wayne Rooney. That's the one I love seeing and I am enjoying him getting back to that form. In that form, United will win most of their games."
Ferguson spoke to Geoff Shreeves after launching his new autobiography, which is published on Thursday and includes heavy criticism of Roy Keane.
The Scot said his former captain "thought he was Peter Pan" by the time he was forced out of the club in 2005 and, in an exclusive interview, goes on the attack again.
Ferguson said: "His early experience will have done him good because he was always... you can't criticise.
"Maybe he understands what I am saying about him in terms of maturity. If he brings that to the plate it can make a difference."
Keane has become a pundit after spells in charge of Sunderland and Ipswich. He guided the Wearsiders to promotion from the Championship in 2007 but failed to replicate the success he achieved as a player from the dugout.
Ferguson insists he did everything to prevent Keane tarnishing his reputation at United but they had to sell him after his now infamous attack on team-mates in an interview with the club's TV channel.
"He was a great player for me, a great captain but he overstepped the mark and the right thing was done," said Ferguson. "We had to cut the strings.
"We did honour his playing career by paying up his contract, we honoured his testimonial and he did come in and apologise.
"But he has come out several times over the last few years and really spoiled that."
David Beckham is also criticised in Ferguson's book after another spectacular fallout but it is his career decisions which have rankled most with the Scot.
"I would rather he would have been the best player he could be at Manchester United and joined Ryan Giggs and Paul Scholes in the pantheon of great players and had a great career of 20-odd years at United," said Ferguson.
"If he had asked my advice about going to LA Galaxy, I would have told him 'you don't leave Real Madrid for LA Galaxy'. He had his reasons for that."
Ferguson remains in the spotlight despite retiring as a manager last May and his presence, not least as a director at United, has cast a shadow as David Moyes struggles in the Old Trafford hotseat.
But he insists his successor will deliver more glory years for the club, saying: "The Glazers are very loyal."
"David will be successful because he be given time to be successful. He will get his own ways of doing things and he has the right support.
"He has all the qualities: 10 years at Everton, he works hard, has integrity, honesty, good ideas. All he has had is a couple of bad results - it happens to us all."