Championship: Watford manager Gianfranzo Zola feels he is growing into the role
Watford boss Gianfranco Zola feels he has learned a lot from his experiences in his first job at West Ham.
Last Updated: 26/10/13 12:12pm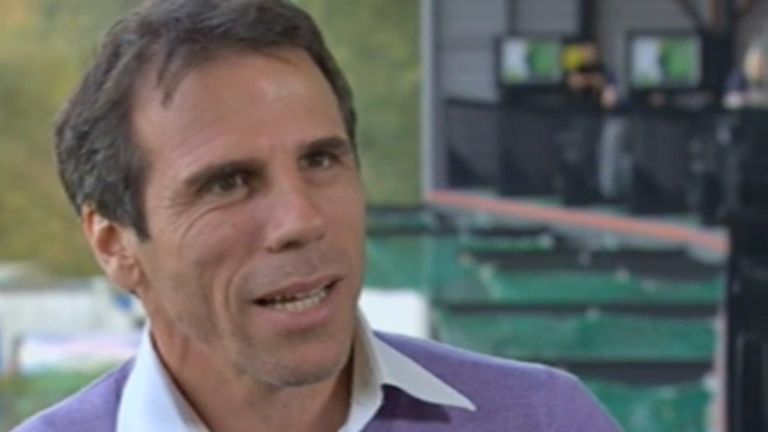 In a wide-ranging interview with Geoff Shreeves for Weekend Warm-Up, the Italian discussed his current role in trying to secure promotion to the Premier League with Watford.
The Chelsea legend also refused to rule out taking over the Stamford Bridge hotseat at some time in the future but stressed he has a lot still to learn before that dream could become a reality.
Zola became West Ham manager in September 2008 and earned plaudits for bringing a number of talented young players into the team and developing their playing style.
But after the club finished five points above the Premier League relegation places, he was sacked just two days after the end of the 2009/10 season.
"West Ham was my first job. The situation is different (to being a player) but is getting better and I am starting to find answers to problems. But still there are moments in which it is difficult," he said.
"At West Ham it was tough, it was very demanding. Apart from the first year, we never had the time to experiment or do the things we wanted to do. Results were everything.
"When you are allowed to try things, you can make a difference. But West Ham allowed me to learn a lot. It was hard but it was a lesson."
Zola has since established himself at Vicarage Road, leading a team with a limited budget to third place in the Championship last season before they lost to Crystal Palace in the play-off final at Wembley.
Watford have made a promising start to the current campaign and Zola is keen to guide them to glory after the disappointment of failing to secure promotion.
"I am very committed to what I am doing. It feels like I have an unfinished job and I would like to complete it," he added.
"The club has been very supportive so I would like to give them some satisfaction.
"After the Leicester game (in the play-off semi-finals) I felt 10 years younger. We then got to the game (play-off final) in which we were probably favourites and reached a situation where things didn't work.
"Too many players did not perform to their best and probably the manager should have done something different. All of a sudden you go from one extreme to the other."
As for a return to Chelsea in the future, Zola insisted he must improve if he is to be up to the job of one day managing them and stressed the success he had as a player in west London will count for nothing if he were to apply for the top job there.
"I want to master this job," he said. "Whether I am going to one day manage a club like Chelsea depends on how good I am going to become.
"I am not sure Chelsea would choose me because of what I was as a player because that would be totally wrong. The focus for me is to get good in this job and then I will see.
"But Chelsea will always be a special place for me."
Watch Gianfranco Zola's Watford in action away to Brighton on Monday night. The programme gets underway from 7:30pm on Sky Sports 1 HD.