FIFA president Sepp Blatter calls for tougher sanctions against racism in football
FIFA president Sepp Blatter has vowed to take tougher action against clubs to combat racist abuse in football.
Last Updated: 27/10/13 10:34am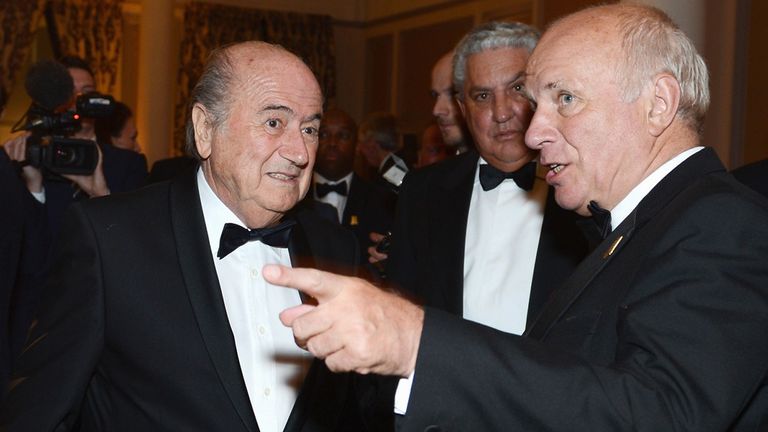 Blatter believes that the threat of fines and being forced to play matches behind closed doors is not enough of a deterrent to stamp out racist and discriminative behaviour in football.
Speaking at the Football Association's 150th anniversary gala in London, Blatter spoke at length about the need to introduce tougher measures against what he described as a "villain".
"It has been decided by the FIFA congress that it is a nonsense for racism to be dealt with with fines, you can always find money from somebody to pay them," he said.
"It is a nonsense to have matches played without spectators because it is against the spirit of football and against the visiting team, it is all nonsense.
"What we shall do is be very tough, we need to eliminate teams from a competition or deduct points.
"Only by such decisions is it possible to go against racism and discrimination. If we don't do that it will go on and go on, we have to stop it, we need the courage to do it.
"We can do something better to fight racism and discrimination.
"This is one of the villains we have today in our game but I'm sure, with the combined efforts of everybody we can go on, but it is only with harsh sanctions that racism and discrimination can be washed out of football."
Piara Power, executive director of Football Against Racism in Europe, was also present at the event and warned that a boycott of the 2018 World Cup in Russia by black players would lead to the tournament being postponed.
The issue of a possible boycott was raised earlier this week when Manchester City midfielder Yaya Toure claimed he was the victim of racist abuse during the UEFA Champions League clash at CSKA Moscow.
Power said: "I think that if the players of African origin should decide to boycott the World Cup, European Championships or any other tournament there won't be a tournament because of the numbers who would be absent.
"I can understand Yaya Toure's sense that something needs to be done urgently.
"There is a lot of work to be done. On the issue of denial I would say that there isn't a player that I have ever known who makes these things up.
"There is a common pattern in these scenarios; teams, clubs and institutions feel under pressure and their first recourse is to deny it. I don't think it is particularly commendable but that is part of the education we need to do."