Premier League: Darren Fletcher plays for Manchester United's Under-21s
Darren Fletcher has set his sights on a first-team return after playing for Manchester United's reserves on Monday.
Last Updated: 29/10/13 11:00am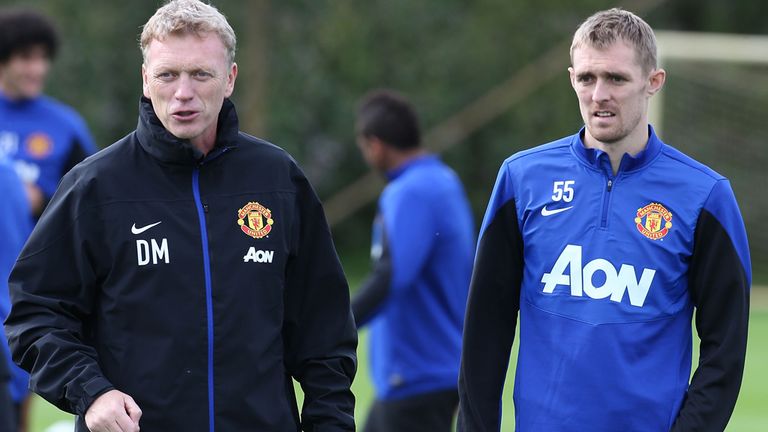 The Scotland international midfielder made his first appearance of the season in a Red Devils shirt when he played for two-thirds of the 2-2 draw between United's Under-21 side and Fulham U21s at the AJ Bell Stadium in Salford.
Fletcher has not appeared for the senior United team since coming off the bench late on in the 4-3 home win over Newcastle on Boxing Day 2012.
Shortly after that game, Fletcher underwent planned surgery to resolve the chronic bowel disease ulcerative colitis, thus ending his campaign.
The 29-year-old has been gradually working his way back to fitness and was judged fit enough to play 67 minutes for Warren Joyce's U21s against their Cottagers counterparts.
Goals from young French striker Moussa Dembele and Muamer Tankovic put the visitors in the ascendancy but a Stephen Arthurworrey own goal shortly before the hour mark reduced the deficit and Michael Keane snatched an equaliser three minutes from time.
Afterwards, Fletcher told MUTV: "It's been a long time, so it's good to get back tonight. I've been training for a few weeks now and the next progression is to get some match-time. I enjoyed it.
"The plan was to get to half-time and see how I felt, then get to 60 minutes and take it from there. Although I felt I could have gone on a bit longer, the plan was not to play more than that so I'm better sticking to the plan and not upsetting the sports science lads.
"They've been great, especially the doc Steve McNally. He's worked closely with me, getting myself right and back and the support from the club has been fantastic - from Sir Alex Ferguson to the new manager and David Gill. Everyone at the club. I couldn't ask for anything better.
"It's been tough. Luckily, I've got a great family around me. They keep me going, keep me motivated and lift me when I'm down. All these factors contributed to me standing here today on the road to recovery."
Next target
Fletcher's next target is to play full games with the U21s, and hopefully convince David Moyes he is ready for competitive action once more.
"I just want to be out there to help and do my best," he added. "The aim is to be back in the manager's plans and help on the pitch.
"Although we've not started as well as we'd have liked, it was a very tough start, and I still expect us to kick on in the next few weeks.
"[A return is a] question for David Moyes. I'm going to hopefully have a few more Under-21 games and finish 90 minutes before trying to work my way into the squad. If I get a chance, I've got to be ready to take it."