Cardiff owner Vincent Tan not ready to explain recent upheaval at Premier League club
Cardiff City owner Vincent Tan does not want to 'add fuel to the fire' on a turbulent past few weeks for the club.
Last Updated: 04/11/13 12:24pm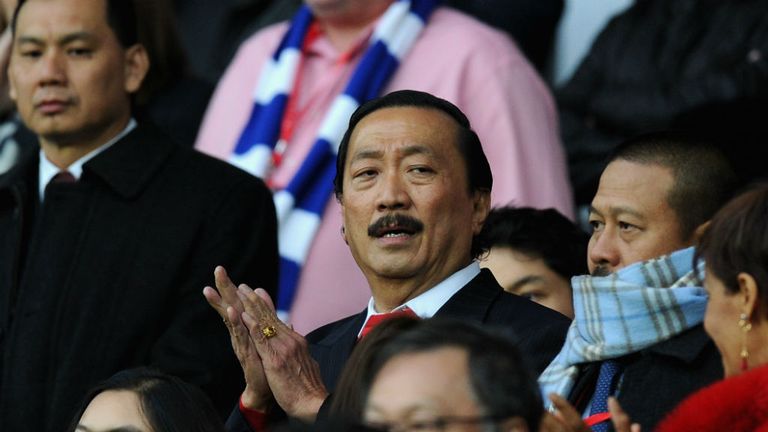 Apsalyamov, who is a family friend of Tan, was installed in the position following the suspension and subsequent sacking of Iain Moody.
However, Apsalyamov has been ordered to stand down from his role while the Home Office investigates whether the 23-year-old from Kazakhstan has the right to work in Britain.
Speaking after Cardiff's 1-0 win over south Wales rivals Swansea City on Sunday, Tan did not want to be drawn into an explanation on the matter.
"I don't want to add fuel to the fire," Tan told Sky Sports News.
"I will explain when I need to explain, there's no need to explain now."
The replacement of Moody also prompted questions over the future of Malky Mackay and whether the Cardiff boss would continue in his role.
But, when asked if he feared the recent headlines could lead to Cardiff losing Mackay, Tan replied: "I've no comment to that."
While the speculation rumbles on over Malky's tenure, a section of Cardiff fans held a protest after the game against Tan's rebranding of the club.
Despite the euphoria with victory over their fierce rivals, the decision to change the club's colours from their traditional blue to red remains unpopular with some supporters and one banner in the Canton Stand read: "Blue then - Blue now - Blue forever", while another read "Tan out".
Before the game, a message on Facebook from Bluebirds Unite, a fans' group opposed to the rebrand, read: "After the final whistle, like-minded fans are ncouraged to walk to the Canton Stand and stay there to chant pro-blue/anti-Tan chants. We need to make ourselves known to Vincent Tan."
Mackay himself took a thinly-veiled dig at Tan as he praised the work of Moody on a day when several players he helped the club acquire, including the outstanding Steven Caulker, Gary Medel and Kevin Theophile-Catherine, excelled.
"We have worked hard here for two-and-a-half years, in terms of my staff and the players we have brought to the club over the last two-and-half years to get to a point like this," said Mackay.
"We want to make sure we are here next year in this division because it is fantastic and it puts smiles on the faces of everyone and today goes a long way to helping with that."