Arsenal midfielder Mikel Arteta ready to face Borussia Dortmund in the Champions League
Mikel Arteta is expecting another tough test against Borussia Dortmund, but says Arsenal's confidence is rising.
Last Updated: 04/11/13 10:30am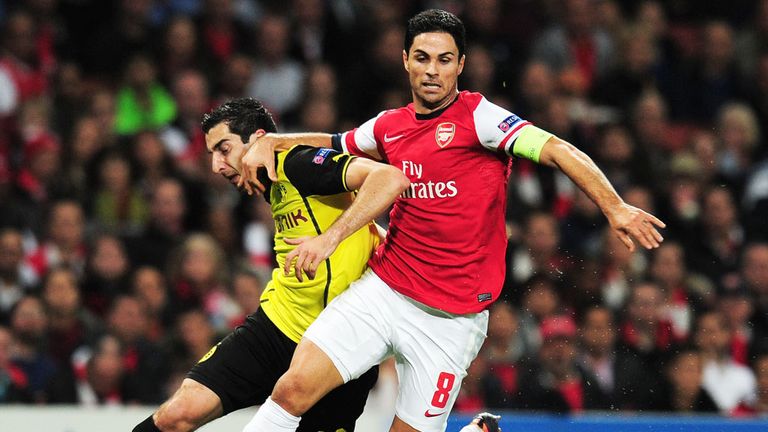 Arsenal opened up a five-point lead at the top of the Premier League on Saturday after a 2-0 win over Liverpool and now turn their attention to the UEFA Champions League.
Dortmund won 2-1 at the Emirates Stadium a fortnight ago to leave last season's runners-up, Arsenal and Napoli all on six points in Group F.
Arteta, though, believes Arsenal were more than a match for Dortmund at home and is expecting a different test from the one Arsene Wenger's side overcame against Liverpool.
"The Dortmund game is huge," said Arteta. "We knew this week was going to be tough and this is a good way to start it.
"Dortmund will be a very different game to Liverpool, with the way they play, so we will have to get ready for it.
"I didn't think Dortmund were the better team when they won at the Emirates last time. We conceded a goal when we were on top in the game, and were likely to score a second to kill the game.
"But we know in the Champions League against those teams you are limited to small chances, and it was our fault we lost, but I think we showed we are the same level as Dortmund.
"We don't want to go to Napoli needing a win. But when you look at the fixtures at the start of the group, it would have been strange if by the last game you are already qualified given the quality of the teams, so we might need to get something there, too."
Spain midfielder Arteta, who captained the side again on Saturday, reckons people are now starting to sit up and take notice about what this Arsenal squad are capable of.
"When you are at the top, compared to where we were last season, it is different," he added.
"We have more belief and are starting to create a bit of fear into the opposition. That is giving us a better chance to win the game.
"When you are on a good run and the confidence level is high, it makes everything a bit easier."
Despite beating second-placed Liverpool to record an eighth Premier League win from the opening 10 matches, the pundits continue to doubt whether Arsenal have what it takes to last the distance.
Arteta said: "There are always different opinions. Some people have an unbelievable opinion about us, some others don't trust us.
"But that is normal and we have to prove every week that we are good enough to be where we are."