Europa League: Erik Lamela praised as Spurs reach knock-out stage
Andre Villas-Boas hailed Erik Lamela, who played a starring role in Tottenham's 2-1 victory over FC Sheriff on Thursday.
Last Updated: 07/11/13 11:29pm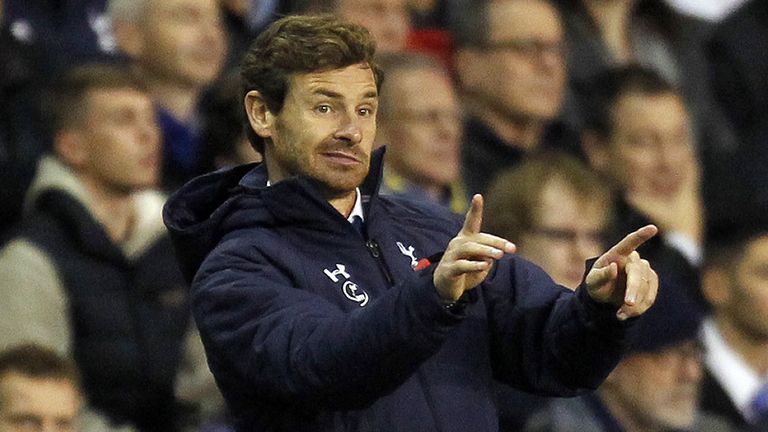 Thursday's win over the Moldovan club in the Europa League made it four wins from as many games in Group K and earned the Londoners a place in the knock-out stage of the competition.
Lamela scored the opener and was instrumental in earning the penalty from which Defoe netted the second to beat Martin Chivers' European record for Tottenham.
And Villas-Boas said of the Argentinian: "We were waiting for a good performance from him and I think we got it today.
"We have been patient with him and he has delivered with a game in which he had no fear, took people on and created a lot. We saw some signs for what he can do for us and hopefully now he can progress."
Defoe, meanwhile, revealed he had been given words of encouragement by Chivers before he surpassed his European goalscoring record.
The England striker converted a penalty to claim his 23rd European goal for the club, one more than Chivers managed during his time at White Hart Lane.
Defoe told ITV4: "He's a legend, I saw him at half-time. He said to me keep it going you'll get it. So nice for someone like Martin to say that."
He added: "It was frustrating tonight, I couldn't really get much space.
"I just thought to myself stay patient.
"To go to the top of the list I'm delighted. I was confident, what an opportunity to do it."
Villas-Boas said: "We are all particularly happy for him. It is a great honour and will stay in time like Martin's and will be very difficult to break.
"I hope it means this club will continue on this competition in to the later stages to make it even more prestigious for him.
"We were expectant and glad that it happened today. We were trying to put him through on goal, Erik did very well to create the chance through the penalty and he slotted it home."
The Portuguese's only regret was the failure to add any more goals, saying: "We could have gone on from there and scored more.
"But it was a great overall performance, and it's good to be through."
Sheriff head coach Veaceslav Rusnac felt his side played well but conceded Spurs were the better team and has backed his opponents to go all the way in the competition.
"They played very well to win the game," he said. "I think Tottenham are the main favourites to win the Europa League. I think we played a great team today and we played to our capabilities.
"We created some good chances at 0-0 and are overall quite happy with the way we played."