Premier League: Chelsea's Eden Hazard backed for immediate return to squad
Eden Hazard has been backed to make an immediate return to the Chelsea squad for the Premier League game with West Brom.
Last Updated: 09/11/13 2:12pm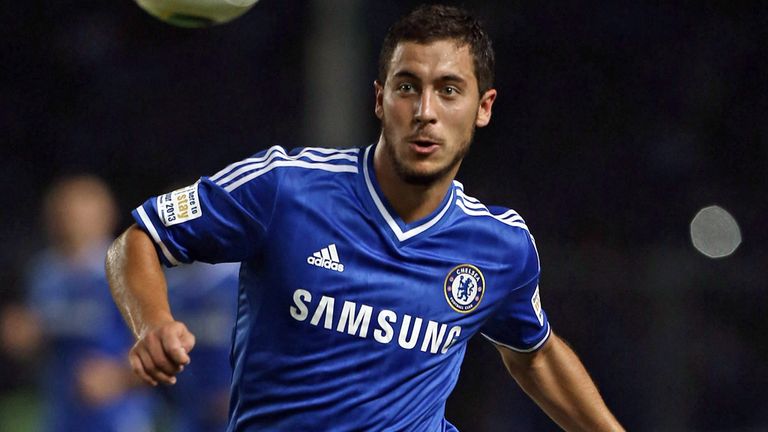 Jose Mourinho would not elaborate on why the Belgium international had been left out of his squad for the 3-0 win in UEFA Champions League Group E on Wednesday, although it has since emerged that Hazard missed training on Monday after suffering travel problems between Lille and London.
Defensive duo Branislav Ivanovic and Gary Cahill are confident that the issue has now been dealt with and are looking forward to Hazard making a return to the side.
"It is important for the team, but also Eden accepts this as a discipline and he will be in the next game," Ivanovic said.
"It means we are serious, and we are all together - and I don't think he has a problem with that."
And Cahill added: "They had their chat one-to-one and the situation is dealt with. The manager makes decisions and he does not have to explain every single one.
"But the camp is a happy one - especially when we are winning games. Players know exactly where they stand but there are no long-term grudges.
"Eden Hazard is a terrific player and we obviously need him in the squad and available so we look forward to having him back."
Eto'o praised
Chelsea return to domestic duty following the surprise loss at Newcastle to face Steve Clarke's West Brom, with their strikers in buoyant mood.
All three of Chelsea's strikers have scored in two games against Schalke.
Fernando Torres, who is out for around three weeks with an adductor injury, scored twice in Gelsenkirchen and Samuel Eto'o scored twice in west London before Demba Ba added a third.
Eto'o could retain his starting place against Albion and Ivanovic believes he is nearing his best after belatedly hitting his stride.
The 32-year-old Cameroon striker has started life at Stamford Bridge slowly following his summer move from Anzhi Makhachkala but now has three goals after breaking his duck against Cardiff.
"Samuel is working very hard for us and I think for us it is very important that our strikers start to score goals and help the team a lot," Ivanovic said.
"Age doesn't matter - it is what he shows on the pitch. It is important to recover well, and to try to make the next games because Fernando now is injured."
Eto'o has won the Champions League three times and was part of Mourinho's winning side for Inter, who beat Chelsea en route to winning the tournament.
"It was very difficult to play against him," added Ivanovic, recalling the 2010 competition.
"In that moment, he was one of the best strikers and I think he can be at the same level again.
"But the important thing is to play and to score goals for (the team).
"I think the first goal showed that he has a big wish to prove (himself) and to go forward. We know he has come here to help us."