Champions League: Six Scottish football fans to stand trial in Amsterdam
Six men will remain in custody in Amsterdam to appear in court following clashes ahead of Celtic's match against Ajax.
Last Updated: 08/11/13 4:14pm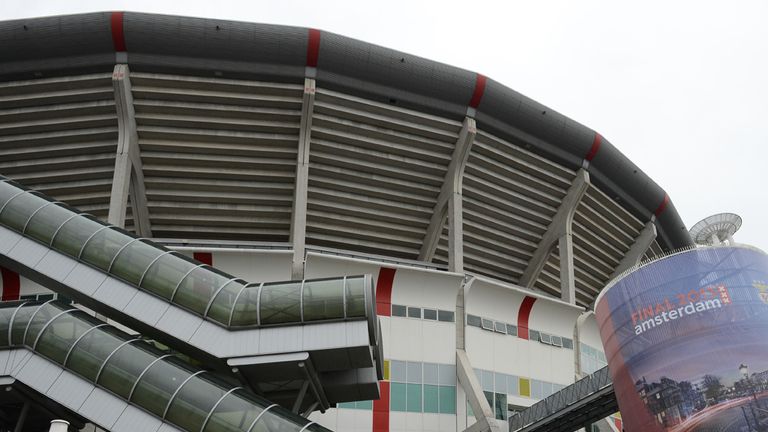 A total of 28 Scots were among 44 people arrested following the problems, which left eight Dutch police officers injured, although none of the six remanded in custody have been formally charged.
Dutch police have confirmed that 22 of the Scots were released after being fined, although Celtic have insisted they will be opening an internal investigation to consider claims their fans were poorly treated.
"We would stress that there is no excuse for any form of violent conduct," read a club statement.
"In addition, we have received numerous complaints from Celtic supporters in relation to their treatment in Amsterdam, which we will also investigate fully.
"There is no question that Celtic supporters have been subjected to a high degree of provocation."
The latest incident followed clashes during Ajax's trip to Glasgow a fortnight ago, while around 50 supporters were reportedly attacked by a group of masked men in an Amsterdam cafe on Tuesday night.
"Last week, our supporters were the target of missiles being thrown from Ajax supporters at Celtic Park, a night where 300 seats were damaged within the stadium," the Celtic statement continued.
"This was followed up by an organised attack on a group of Celtic supporters in Amsterdam on Tuesday, the night before the match. We have also received numerous individual reports of other attacks on our fans.
"The Celtic travelling support has a magnificent reputation across Europe and our fans have visited major European cities over many years without incident.
"Once again the overwhelming majority of our supporters behaved impeccably."
Celtic manager Neil Lennon was also quick to defend his club's supporters, describing them as the "best in the world".
"I am disappointed but not surprised, looking at what happened at Celtic Park with the Ajax fans in terms of ripping up seats and throwing them at our supporters," he said.
"If there are Celtic fans who have been out of order and there are members or season-ticket holders then the club will take appropriate action, obviously.
"If the club's reputation has been damaged in any way I am disappointed with that but Celtic fans, I think, are the best in the world.
"But I think there is a culture at Ajax. I think Man United fans and Man City fans had problems recently so I don't think it is exclusive to Celtic.
"I am not going to point the finger at them (at Celtic fans) because I don't know what the facts are but our fans are exemplary.
"I have been here 13 years and everywhere they go, they have been an absolute credit to the club. They make a lot of friends wherever they go.
"Again, I don't have the facts in front of me but I would say that if there was a reaction, there was immense provocation in the first place."