Premier League: Daniel Agger feels he belongs in Liverpool's starting XI
Daniel Agger believes he belongs in Liverpool's team and will remain as long as he feels he can make a contribution.
Last Updated: 13/11/13 12:22pm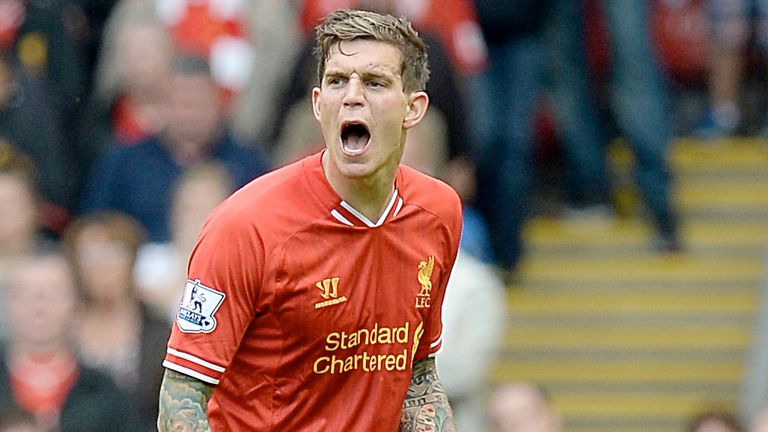 The Denmark centre-back made his return to the team in the weekend's 4-0 win over Fulham after more than a month on the sidelines.
He initially lost his place after a freak gym injury and admits he rushed back too soon, meaning when he was fit manager Brendan Rodgers had already switched system to a back three which did not include him.
It was a frustrating few weeks, which unsurprisingly sparked speculation about the 28-year-old's future, but Agger is keen to focus on retaining his place.
"It is difficult to describe but I want to play all the time, every single game," he said.
"When you are not playing that is difficult but, while that is sad, I just try to work even harder every single day in training, not complaining just doing everything a bit extra.
"I am more than capable of being in the team - I feel I belong there - but it is the manager's decision and sometimes that is difficult to change in training.
"You need to grab the chance when it is there - that is what football is all about.
"I know I am here and as long as I am doing everything I can to be in that team, and I feel I am good enough and the manager can use me, then I'll be here."
Agger insists he welcomes the competition provided by fellow defenders Kolo Toure, Martin Skrtel and Mamadou Sakho and expects nothing less.
And that was why he never complained when he was out of the side and never sought reassurances from Rodgers.
"Competition is what this club has been about and should always be and that is a good thing because we want to win something," he said.
"I'm not the type of player who needs an explanation, I just carry on with my thing and try to do everything to get back into the team.
"It's been a bit longer than I hoped for but when you get the chance you need to do everything to keep your place."
Agger's injury record may have been chequered during his Liverpool career but he appeared to have put that behind him in the last couple of years - which is why his latest problem was so annoying.
In quickly moving out of the way to avoid a piece of gym equipment the 28-year-old sustained a side strain.
"Obviously I didn't start against Swansea when I got the tear in my abdomen and then when I started the week after (against Southampton) and I should never have started," he said.
"That is one of those things. It was a stupid injury in the gym. But I've trained well the last couple of weeks - and I've trained a lot, I've been running a lot - and I am probably better now than I was before.
"When you are not playing for a while you need to get the timing right and the confidence right on the pitch, and that takes some time."
Liverpool's start to the season, which has them in second place in the table heading into an international break before the Merseyside derby at Goodison Park, has raised hopes of a return to the Champions League.
"We've had a few seasons without Champions League and when you play in that tournament you know it is where you want to be because that's where all the best players are," said the Dane.
"There's a long way to go but all the guys here want to play Champions League again."