Republic of Ireland striker Robbie Keane agrees new LA Galaxy deal
Robbie Keane has agreed a new deal with LA Galaxy that could keep him in Major League Soccer for a further three years.
Last Updated: 14/11/13 3:04pm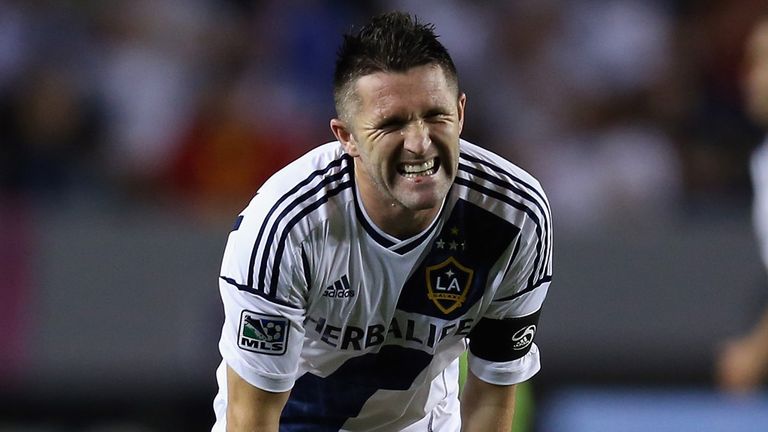 Keane left Tottenham for LA Galaxy in 2011 and although last season ended in play-off disappointment at the hands of Real Salt Lake, the Republic of Ireland striker is happy staying put.
"I've just verbally agreed a two-year contract, maybe extending to three," Keane, who last year spent two months at Aston Villa in the off-season, told Sky Sports reporter Johnny Phillips.
"I'm certainly excited about that and playing for the Galaxy in the future. I didn't think I was going to go there and then come back to the Premier League, but I'm enjoying my football there and the club has been very good to me.
"As soon as you hit that 30 age mark in football, people are reluctant to give you contracts but this will be the third contract I've signed since I've been there and it shows the faith they have in me.
"Since I've been there, it's been a strong league. It's a tough league because of the structure that works there with everyone competing at roughly the same level. Every team can beat every other, so it's very competitive.
"When people come over to play in it, I always tell them, 'don't think you're coming over for a holiday'. There's a lot of pressure on the three designated players [each team can sign three players outside of the league's salary cap] as people are expecting you to deliver all the time."
The 33-year-old has spent time in Ireland during the close season to gain his coaching qualifications - but is not ready to hang up his boots just yet.
"I've still got a good few years left in me," he added. "But I'm looking to do my coaching badges in January in Ireland.
"The FAI has a good structure here to help players if they want to do that. It's something I'm passionate about and need to get into if I want to stay in the game."