Former Sunderland boss Paolo Di Canio wants another chance to manage in England
Paolo Di Canio is determined to return to management in England despite his sacking by Sunderland earlier this season.
Last Updated: 15/11/13 3:16pm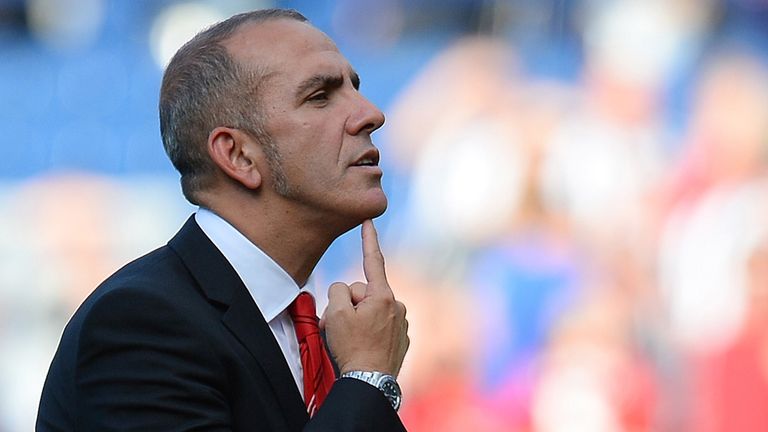 The 45-year-old, who replaced Martin O'Neill in March, was axed in September after the Black Cats picked up just one point from their opening five games of this season.
But the controversial Italian, speaking in an exclusive, hard-hitting interview with Sky Sports News, insisted his experiences at the Stadium of Light had made him stronger and "a better manager".
Di Canio has no regrets over his short tenure with Sunderland, and he remains keen to take another job in England with the "right club and the right people".
"The sacking made me stronger," he said. "I am my own worst critic. Sometimes a situation like this gives you a graduation. I think my level was too high for this situation.
"What doesn't kill me makes me stronger. I cannot wait to have another chance in the right place with the right people who let me work my way. Now I am a better manager than before, much better."
Di Canio also insisted that he was keen to take another job in the Premier League or Championship despite hinting he has fielded offers from clubs in Europe.
"Even if I have four requests around Europe, I don't go," he added. "I will wait until the time in England when there is no more space for me. Otherwise, I wait.
"I am not a magic man that can predict the future. It would be stupid for some chairmen if they don't call me. I hope, yes, but there is no guarantee.
"It can be the Championship, with a fantastic project. Why not?"
Di Canio was axed after the 3-0 defeat at West Brom in September, when he famously attempted to lift the spirits of the visiting supporters on the pitch following the final whistle.
Reports suggested a training ground bust-up the following day contributed to his sacking, but Di Canio described the rumours as completely untrue.
"It never happened," he said. "There was a typical meeting that I used to have after every game, to watch the clips and analyse the game.
"There were differences of opinion, because people were angry, but no-one touched another person."
Sunderland made 14 new signings during the summer, but Di Canio insisted director of football Roberto De Fanti and chief scout Valentino Angeloni were responsible for all transfer business and claimed he would have wanted more British players.
"I think 80 per cent of the squad should be British footballers," he said. "I don't know why more didn't come, you would have to ask Roberto De Fanti and Valentino.
"They were given power by the chairman. I gave them my opinion, I gave them names, but not one came and I don't know why. The players that did come, I accepted, but obviously they weren't my first choices."
Di Canio also stood by his criticism of the fitness levels of the Sunderland players when he took over in March, and claims his ban on ketchup was a necessary, if unpopular, step.
"I had players who told me they had cramps from driving the car. I had three players with injuries in the calf after 20 minutes of a game. Six different players with problems means they were not fit," said Di Canio, who admitted his ban on ketchup and mayonnaise did not go down well.
"There were moments when the players had fun but there were also moments when the players had to be serious," he added. "If there was a mistake, it was that maybe I let them become too relaxed. I should have been more tough.
"I did ban ketchup and mayonnaise because the players have too much of it and it is not healthy. It is not professional in a top club in one of the top leagues in the world. I saw people put ketchup in their pockets trying to smuggle it in! It was crazy."