World Cup: FIFA responds to Amnesty claims of workers rights abuses
FIFA has responded to claims made by Amnesty International of an "abuse of migrant workers" in Qatar.
Last Updated: 18/11/13 11:17am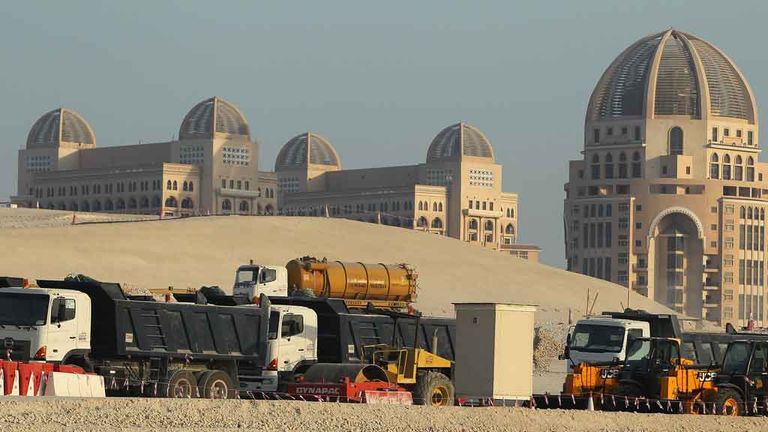 Amnesty released a 166-page report that claimed workers arriving in Qatar to work on construction projects related to the 2022 World Cup are subjected to "non-payment of wages, harsh and dangerous working conditions, and shocking standards of accommodation".
Amnesty International's secretary general Salil Shetty described "an alarming level of exploitation in the construction sector in Qatar.
World football's governing body responded by insisting they take such matters extremely seriously and confirmed they are working closely with Qatari authorities to address the situation.
"FIFA has made clear that it upholds the respect for human rights and the application of international norms as a principle of all our activities," an official statement said.
"FIFA understands and shares Amnesty International's efforts towards social justice and respect of human rights and dignity, which are very much anchored in the statutes and purpose of FIFA.
"FIFA also expects that the hosts of its competitions fully respect these. As a result, FIFA President Blatter personally visited Qatar on 9 November. He received a firm commitment from the 2022 hosts.
"The state of Qatar is aware of various issues and has already started to react."
Amnesty had voiced their concerns about the plight of migrant workers in the Middle East country, insisting conditions are in desperate need of improvement.
And spokesman Sherif Elsayed-Ali insists FIFA have to back up their words with deeds immediately.
"Any action needs to be taken really, really fast," he told Sky Sports News. "If not, building the infrastructure around the World Cup will feed the abuse of workers.
"The World Cup organising committee have promised to do things and issued standards that look good but the issue is not only the stadiums.
"It is the infrastructure around it - the underground system, the trains, the ports. If changes are not made straight away there will be a lot of suffering.
"The solution is not to move the World Cup but to change the labour system so the rights of workers are protected.
"Fifa have said they are concerned about the problem but there is not a sense of urgency.
"They have told us their priorities are the World Cups in 2014 and 2018 and we would like them to take a proactive role with the Qatar 2022 committee to ensure not only the stadiums, but everything around them, are built free of exploitation."