Germany boss Joachim Low means no disrespect to England by fielding fringe players at Wembley
Germany boss Joachim Low insists he is not disrespecting England by giving starts to a number of fringe players.
Last Updated: 19/11/13 7:45am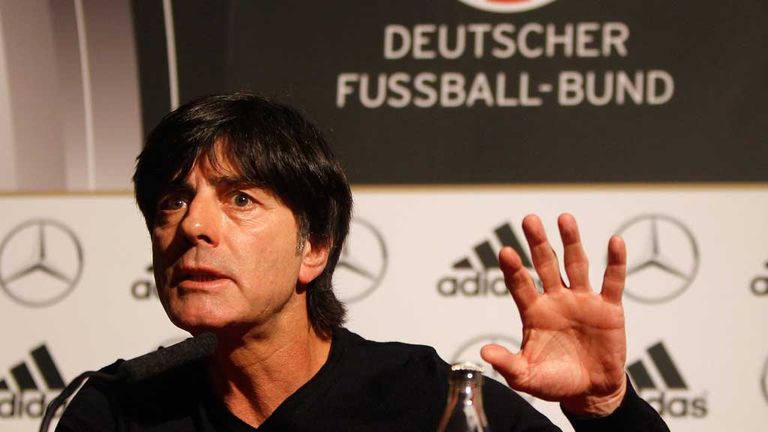 Low has confirmed he will give an international debut to Borussia Dortmund's 33-year-old goalkeeper Roman Weidenfeller, with Arsenal's Per Mertesacker a definite starter in what the coach called an "extraordinary match."
The likes of Mesut Ozil, Philipp Lahm and Manuel Neuer will all be rested. Marcel Schmelzer will replace 43-cap Marcel Jansen at left-back and Sven Bender should slot into midfield for Sami Khedira, who looks set to be out for up to six months after suffering a serious knee injury in Friday's 1-1 draw with Italy.
But Low denied he was fielding a 'B' team: "It's certainly an extraordinary match: Wembley is a mythical place, so we're raring to go.
"What better test for these upcoming players than to go out in front of that partisan 80,000 crowd cheering their own team on. I need to experiment a bit and send a few players home who are already established.
"It is a deliberate acid test, not a "B team", and this is certainly no lack of respect to our hosts.
"In 2008 in Berlin, England played a team without Rooney, Lampard and Gerrard and beat us 2-1."
Low insists Neuer is his first-choice goalkeeper and said experienced Dortmund keeper Weidenfeller deserves a chance to prove he is worth a place in the World Cup squad.
He said: "We weren't exactly looking for goalkeepers because we have plenty. Rene Adler has played a vital part in victories against Russia and France after injury, so we know what he's worth.
"Roman deserves his place in the squad after all those fantastic performances for Dortmund. With the World Cup next year we've got to be prepared with several alternatives.
"He's made a fantastic impression both in training and in the league. He's a mature personality, he plays with composure, he's cool, calm and collected and his goalkeeping credentials are beyond any doubt."
Low is confident that Real Madrid star Khedira will recover from his injury in time for the World Cup finals.
Low said: "If anyone is capable of coming back from such a bad injury it's Sami Khedira.
"He's a natural-born fighter: it's in his spirit, so let's just see what happens. We'll just have to be optimistic, just like he is."