Danny Higginbotham set to make history with Gibraltar in friendly with Slovakia
Former Stoke defender Danny Higginbotham will make history on Tuesday when he plays in Gibraltar's first international.
Last Updated: 18/11/13 4:25pm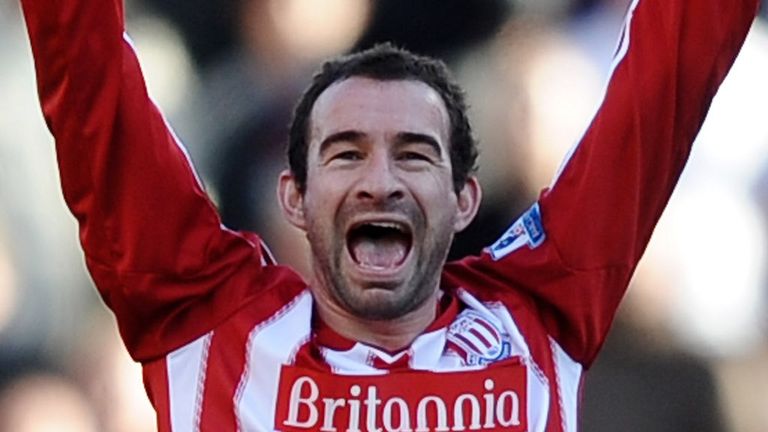 Gibraltar will become UEFA's youngest - and smallest - member when they play Slovakia in a friendly.
They will play Tuesday's game - and their 2016 European Championship qualifiers - 150 miles away at the Estadio Alvarve in Portugal because their own ground does not meet UEFA standards. The whole population of 29,752 - smaller even than San Marino - could fit into the stadium.
Higginbotham, who now plays for Chester after a long career in the top leagues with Stoke and Southampton, will be in the Gibraltar defence and he admits he will be a proud man.
"My mother is Spanish but my grandma has Gibraltarian blood so that's enabled me to be called up," he told Sky Sports News.
Higginbotham's family connections do not end there though as his uncle Allen Bula is the coach of the national team.
He added: "The last time I saw him was probably my eldest son's christening which was about 2002. So we've not really had that much contact.
"But he got in touch through Twitter and asked me a few questions via email to make sure it was all right with Chester.
"Gibraltar football is just trying to get going. They have one football pitch on the whole island. So that's something that they are trying to change."
And Higginbotham admits he did not think twice about taking up the chance to play international football.
"I always look at life in general and you don't want to have any regrets. You make mistakes in life but if I'd turned this down I'd have regretted it in a few years' time," he said.
"The professionalism is unbelievable. They are leaving no stone unturned in terms of the coaching staff, the dieticians, nutritionist, the physio, the doctors, the chiropractor. This is the first stepping stone for Gibraltar."
Gibraltar's first competition will be the Euro 2016 qualifiers and Higginbotham says the team and staff are realistic about their chances of reaching the finals.
"Nobody is under any illusions," he said. "We know it is going to be very difficult. But playing some of the big nations in Europe will be great. It will also help some of the younger lads in Gibraltar because it will put them in the shop window."