Zlatan Ibrahimovic says World Cup finals will not be worth watching without him there
Sweden striker Zlatan Ibrahimovic has claimed the World Cup will not be worth watching without him playing in it.
Last Updated: 20/11/13 4:41pm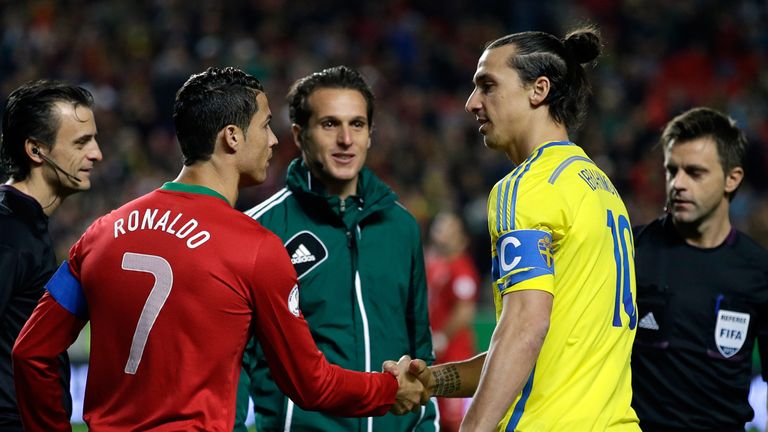 Ibrahimovic scored twice but his performance was topped by a hat-trick from Cristiano Ronaldo in the much anticipated battle between the star forwards, sending Portugal through with a 3-2 win on the night, 4-2 on aggregate.
At 32, it seems Ibrahimovic's last chance to play on the world stage has now passed.
"It was probably the last attempt to reach the World Cup with the national team for me," he said on his app, Zlatan Unplugged. "One thing is for sure, a World Cup without me is nothing to watch so it is not worthwhile to wait for the World Cup.
"Congratulations to Portugal but both teams deserved to get to the World Cup.
"The disappointment of course is great now that the World Cup in Brazil will remain a dream for the Swedish national team."
Ronaldo, who had given Portugal a 1-0 lead in the first leg, scored first in Stockholm to increase Portugal's advantage before two quick Ibrahimovic goals briefly levelled the tie.
It was then the Real Madrid star again with two further strikes to send Portugal through.
After the match, Ronaldo insisted he had not taken any motivation from the much-hyped clash with Ibrahimovic, focusing only on his own desire to reach the World Cup finals in Brazil.
"I do not compete against Zlatan, he is a fantastic player and biggest star in Sweden, but I do not compete against him," Ronaldo said. "I play for my team."
"Now the team is to be congratulated. What we wanted was to qualify. Now have to sit back and enjoy it. We can go back to our clubs with a clear conscience, make a great season and then look forward to the World Cup."