Kenny Miller is backing Scotland's revival to continue under Gordon Strachan
Kenny Miller is delighted to see Scotland's revival under Gordon Strachan - but will not be going back to Rangers.
Last Updated: 21/11/13 2:01pm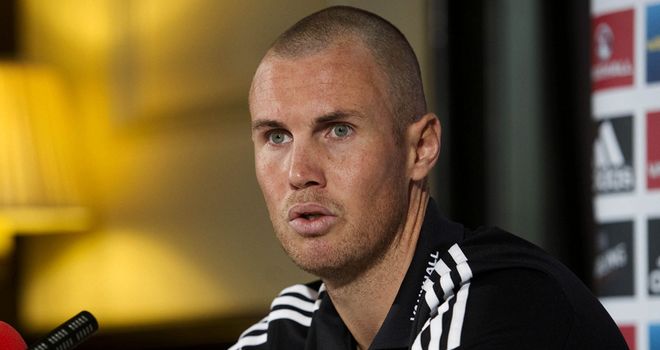 The striker, who retired from the international stage this year after winning 69 caps, also hinted that he may have returned to Rangers last summer, but was committed to a new deal with the Vancouver Whitecaps.
When asked about Gordon Strachan, Miller told Sky Sports News: "The manager's done great. He came in obviously 10 or 11 months ago and he has really got the squad back together and working hard.
"Not just that, we have got some fantastic players but some of the performances and results over the past few months have been really great.
"Obviously I was working in a few squads with Gordon and there's nothing complicated about it. He's come in and told the players what he wants them to do and how he wants them to perform and the players have responded to that.
"They have put on performances that we never produced at the start of the campaign but we have finished off great with some fantastic results, namely the two games against Croatia. To beat Croatia home and away is a fantastic achievement.
"Even in the last two internationals, we never played great against the USA or Norway but we never got beat. Any international away from home is a tough fixture these days. To beat Norway away from home, not playing your best, but just grinding out a result is another fine achievement."
Miller's former team-mate at Rangers, Kris Boyd, earned a recall to the national squad this week at the age of 30 and Miller was delighted to see him back at the highest level.
"I was delighted to see Kris Boyd back in there," he said. "I played with Kris and know him very very well.
"He's had a tough couple of years, he's found his feet again and he's back playing, doing what he does best and that's scoring goals. It was great to see him involved again, albeit he wasn't playing on the pitch."
Miller was quick to play down talk of third spell at Ibrox, but he did admit that he had spoken with Rangers manager Ally McCoist during the summer.
"No, nothing ever materialised on that front," he said. "I spoke to Ally McCoist. We had a chat and he let me know what his thoughts on it were but at the time there was no contact.
"I had just signed a new deal with Whirecaps and we were doing very well. We were unfortunate to miss out on the play-offs this year. But for me it was just a case of keeping my head down and getting on with things over there."