Liverpool's Daniel Sturridge is not sorry he lined up for England against Germany
Liverpool striker Daniel Sturridge says he does not regret playing 90 minutes for England last week.
Last Updated: 26/11/13 10:45am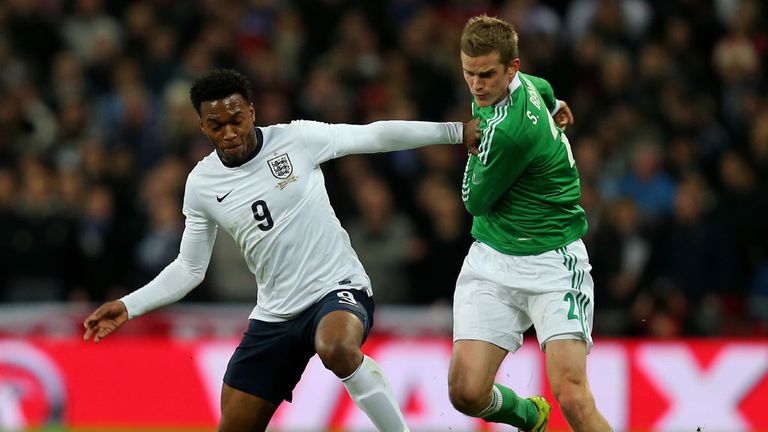 The 24-year-old played 90 minutes against Germany last Tuesday, despite the fact he was battling with a dead leg, and he began the big game against Everton on the bench, before coming on to score a dramatic late equaliser.
The after-effects of the England game meant Sturridge could not train until Friday and Liverpool boss Brendan Rodgers said: "There are maybe some games when he hasn't played well and that has happened on the back of not training."
But Sturridge said: "For me, regardless of what condition you are in, if you are selected by the manager of England you go out there and do the best you can, regardless of whether you are injured or not.
"The manager (Roy Hodgson) gave me that opportunity and it was a pleasure to put the England shirt on.
"Fit or not fit, you go out and do your best."
Sturridge keen to get fit
However, Sturridge did admit that he needs to get the nagging injury sorted out.
"I have been hampered the last three league games since West Brom (on 26 October) when I got the bang," he said. "I've had blood underneath one of my muscles and it is still there now.
"When I shoot from long distance I still feel it, but it is getting better.
"I didn't get to train much when I was with England, I think I only trained once before the game, and I need to get the momentum going to try to get right.
"I need to make sure I am in condition to go out there and do myself justice.
"It would be great to be back in the (Liverpool) side. Fitness-willing and manager permitting, I can get back in the team and help us move up the table."