Championship: Wigan chairman Dave Whelan explains Owen Coyle departure
Wigan chairman Dave Whelan has revealed Owen Coyle offered to resign after their 3-1 defeat at home to Derby on Sunday.
Last Updated: 03/12/13 10:55am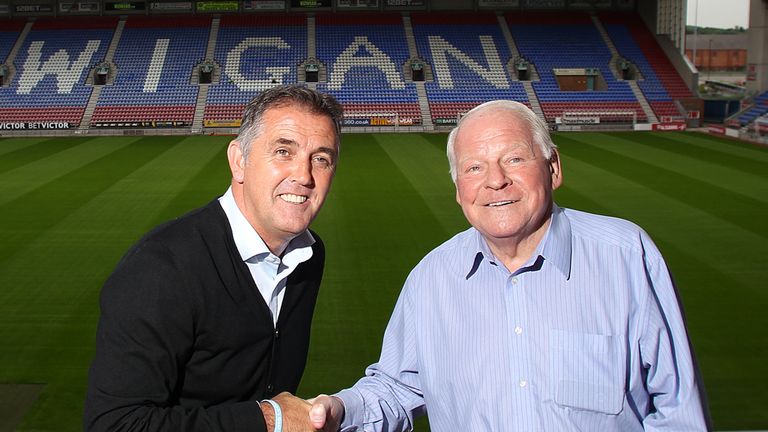 The loss was the Latics' third in a row at home, coming on the back of reverses against Brighton in the Championship and Belgian side Zulte Waregem in the Europa League.
Initial reports suggested former Bolton boss Coyle had been sacked, but speaking to Jim White on Sky Sports News, Whelan was keen to point out that Coyle had offered to step down and that his resignation had been accepted.
"Things happen fairly quickly in football and we have lost three home games in a row," he said.
"I didn't sack Owen. I had a meeting with him after the game and I told I was disappointed in the performance of the team and in his team selection.
"Owen said did I want him to resign and I said 'yes, if you'll resign we will obviously have to pay compensation' but I accepted his word and he has resigned.
"I was disappointed with our performance yesterday and with our two previous home performances. The crowd were getting on at him yesterday and they did at the last two home games."
First-team coach Graham Barrow and assistant manager Sandy Stewart will take charge of first team matters for Wednesday's trip to Leeds United.
But Whelan admitted he does not relish the task of having to choose a permanent manager to reignite their promotion push.
"It's not something I like to do when I lose a manager as you have to appoint a new manager and that is never an easy task," he added.
"I want some good managers to apply for the job and I would like to appoint one as quickly as possible.
"I don't think we (Whelan and Coyle) parted as enemies. We shook hands at the end and hopefully we will still have respect for each other.
"We appointed Owen and unfortunately, it has not come off. So the sooner I can get some interviews going, the better.
"I have got a completely open mind and I think that is the right way so I can try and figure out who is going to be the right man.
"Hopefully I can come to the right decision, get the right man, please our fans, get the football team up and running and start to fight again to get back in the Premier League.
"I want to get the job done as quickly and as smoothly as possible."