MLS wants David Beckham-backed team in Miami but stadium stalling deal
David Beckham's hopes of securing a MLS team in Miami are in the balance with doubts over a stadium.
Last Updated: 04/12/13 12:05am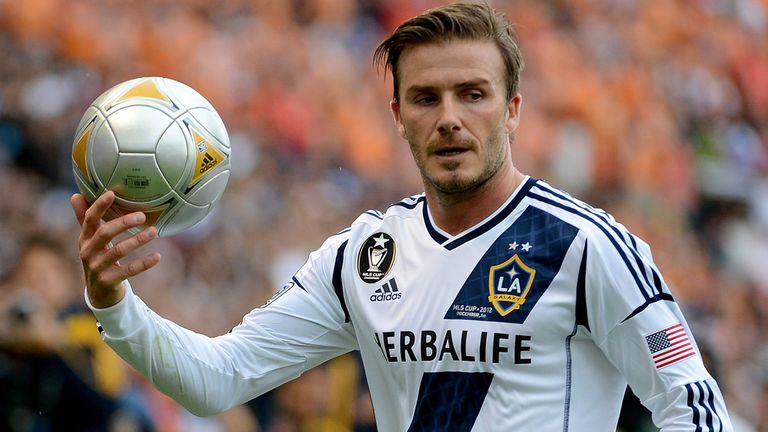 The chief of Major League Soccer has insisted they are still very keen on setting up a new franchise in Florida under the guidance of the former Manchester United and LA Galaxy star, but it remains far from a done deal.
"We can't go into Miami without the right stadium solution," said MLS commissioner Don Garber, in his annual state of the league comments ahead of the MLS Cup championship play-off final between Sporting Kansas City and Real Salt Lake.
Garber refused to put a timetable on the project or address the notion that Beckham faces time pressures under terms of his former MLS playing contract that gave him rights to an expansion club at a discounted rate.
"We're very excited about the opportunity of David putting together an ownership group and finalising a site in downtown Miami so we can have our 22nd team," Garber said.
"But there's a lot of work that needs to happen."
Beckham's Miami bid will be discussed at an MLS board meeting on Friday with Garber stating the situation would be a "key subject", although adding the potential investors "are not coming with a proposal for us".
Bolivian-born billionaire Marcelo Claure and British entrepreneur Simon Fuller are said to be two of the project backers with even NBA Miami Heat star LeBron James having spoken about it with Beckham.
Some reports in Miami say Beckham is interested in a downtown port site for a stadium of around 25,000 seats, but a deal is far from complete and Garber made it clear no team would be welcome without it.
"We want to work with David and Simon Fuller to get something done as quickly as we can," added Garber. "We're making progress in Miami with David Beckham and his partners.
"We believe Miami can work if we have the right stadium situation. We're not there yet. But we hope to get there soon. We believe Miami can work if we get David Beckham and his partners to come together and be as strong as other ownership groups. That is still to be seen."
Garber's goal is to have 24 MLS teams by 2020. The league has awarded teams to New York and Orlando that will launch in 2015, giving the league 21 clubs.
Concerning a proposal for the MLS to shift its match calendar from March-December to align with much of the rest of the world, Garber said: "We don't think we're ready for that yet. That's not something we're going to do in the short term."
Garber said for MLS to realise long-term goals of rivaling European leagues for top talent, the quality of play must rise with investment that is bolstered by a growth in US supporter passion.
"We have got to have more of a soccer culture at all levels in this country," Garber said.
"Our product has to grow in the rest of the world the way the rest of the world's product has grown in the United States. We have to have a dynamic in our stadiums that is different from the other sports in the United States and like other fan bases around the world.
"We will be able to deliver a passionate fan base that will allow us to invest in our teams."