World Cup 2014: Greg Dyke says England draw could have been worse
FA chairman Greg Dyke says England's group-stage draw for the 2014 World Cup finals could have been worse.
Last Updated: 06/12/13 9:19pm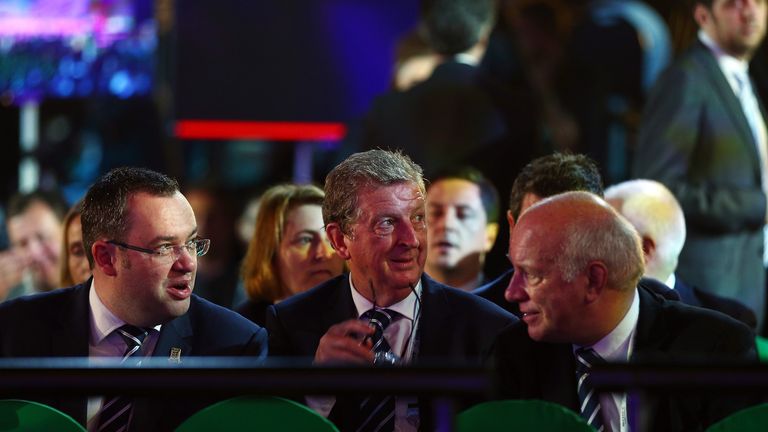 England will face Italy, Uruguay and Costa Rica next summer, with the first game against the Azzurri in the one venue boss Roy Hodgson did not want to go to - Manaus, in the far north-west of Brazil.
But Dyke says the fact that England are playing European opposition and the late kick-off time (the match will start at 2am UK time on the morning of Sunday, 15 June) should mitigate against the humidity.
"There are easier groups, aren't there? But there are harder groups so that's OK," Dyke told Sky Sports News.
"We were not keen to go further up north, to Manaus, but we're playing Italy there and it's a very late night game, so it might be OK.
"You've got to get acclimatised to it. You've got to stay there a bit longer. It's an acclimatisation problem. Other than that, I'm told it's a beautiful place.
"We now know where we are based - in Rio. Those that have been (to the Rio base) say it's very good. I understand there are one or two journalists saying it's not. But I think everyone is very happy with it."
FA general secretary Alex Horne said Rio is the ideal place to be based.
"I think it's a great place to be - I think it's where a lot of the action is. I think it is going to be the heart of the World Cup," he said.
"We've found a really nice hotel and a great training camp that we're really pleased with. To leave those plans in place is good. Geographically, this works for us now. Travelling to Manaus is fine. We knew we would have to travel. It's a very big country. The reason for picking Rio is you are in the middle of it all. It will be the same for Italy.
"We'll take this back now and make proper plans with our medical people and operations people."
Horne admits the FA does not yet have any idea how many England fans are planning to travel to Brazil.
But he said: "Now the draw is out, I hope people start looking at it really seriously and making plans. I think it will be a great place to be - I just think people will have to work out how much they want to travel around. I don't think that will be dead easy to do."