World Cup 2014: Roy Hodgson says England stars can shine in finals
Roy Hodgson admits England have a tough World Cup group but insists his squad can shine in Brazil.
Last Updated: 07/12/13 6:28am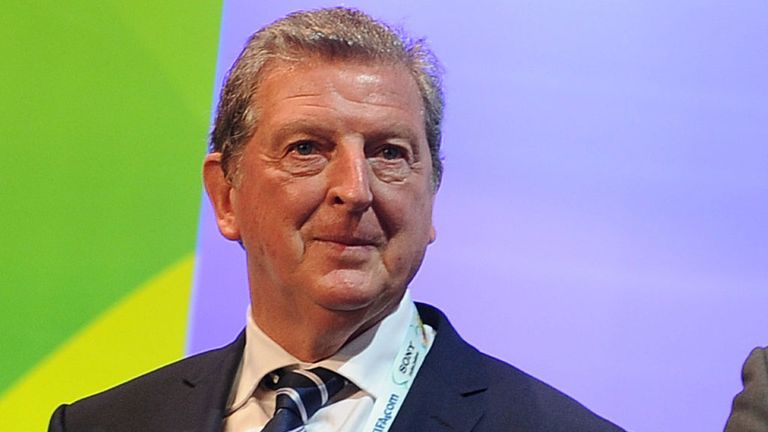 Hodgson seemed reasonably happy after Friday's World Cup draw that placed the Three Lions alongside former winners Italy and Uruguay, as well as Central American nation Costa Rica, in Group D.
While many knowledgeable observers believe the group is difficult, particularly as it includes one long journey north to the equatorial city of Manaus, the England manager is not too concerned.
With regards to the draw, Hodgson told Sky Sports News: "In 2010, everyone was writing what an easy group England had and predicted that they would sail through but it didn't happen. Each game was tough.
"Having a group people say is tough can, in someways, be an advantage.
"Don't forget we've unearthed some good players in the last few years and rejuvenated the squad.
"It is definitely a lot stronger and deeper, and hopefully we won't get too many injuries before then."
England start against four-times champions Italy in Manaus, before heading south to Sao Paulo to face Uruguay - winners of the inaugural World Cup and again in 1950 when the tournament was previously held in Brazil.
Speaking about Uruguay and their star striker Luis Suarez of Liverpool, Hodgson added: "We know what a good player he is, trying to put a spoke in England's wheels.
"But we have good players too. Maybe we'll all be talking about Wayne Rooney and Daniel Sturridge when the tournament is over.
"We know less about Costa Rica but they are a good team too."
As for opening their campaign in Manaus - the second most northerly stadium at the Finals - he went on: "It's probably what Brazil's about. Going north to Manaus, it's such a fascinating place.
"It will be an experience for us, not just in football terms but also life terms.
"I'm just pleased that we are not drawn in a group where all the games are being played in the north - that was my biggest fear.
"I always believed we would get one game in the north. Most teams do, so you'd have to be very lucky to get in a group where there are no games in the northern part of the country.
"Perhaps it's just as well that it's against another northern team."
Italy coach Cesare Prandelli confirmed he will ask for drinks breaks during the match, and Hodgson said he would support him.
"The idea of drinks breaks has been mentioned and we'll back that," said Hodgson, who campaigned for drinks breaks in the 1994 World Cup when he was Switzerland boss.
"I mentioned that in 1994 along with the Italians. Any proposals anyone has that are sensible, then we would support. I think it's going to be necessary, I really do.
"We don't want a situation where the fourth official has got to try to stop people taking drinks breaks, so you'd want an official one really.
"I know the Italians intend to bring this up and they'll certainly have our backing."
Prandelli said: "The problem is not the rivals, but it is the hot venue. We need to prepare the best physically and arrive with 23 athletes. If we arrive physically well prepared, we can get a good result."
Hodgson also confirmed he has no plans to change their training base from Rio de Janeiro.
He stressed: "Our base in Rio will work quite well now with Belo and Sao Paulo, so we'll be left with just one long trip."