Pepe Reina hopes Napoli can overcome Arsenal to qualify for the Champions League last 16
Pepe Reina has backed Napoli coach Rafa Benitez to find a way to beat Arsenal and secure qualification for the last 16.
Last Updated: 11/12/13 11:36am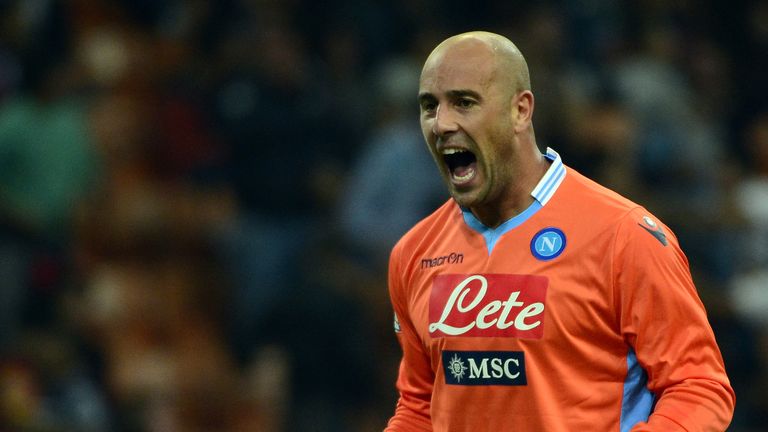 The Serie A side currently sit third in Group H and, if Borussia Dortmund win away to Marseille, must beat Arsenal by three goals in order to make the knock-out phase.
However, Reina believes that Napoli have a man who knows the way out of such tricky situations in Benitez, who famously orchestrated a Liverpool comeback from 3-0 down at half-time against AC Milan in the 2005 Champions League final in Istanbul.
Ahead of the game at the intimidating Stadio San Paolo, the on-loan Liverpool keeper said: "Winning by three goals against Arsenal is not easy- but it is possible. That is our challenge.
"Rafa has worked on a game plan - and our example is easy! The final between AC Milan and Liverpool is the example to follow. It showed that anything is possible. The atmosphere in or stadium will be worth a goal in itself. After that it's up to us as players to give everything on the pitch.
"This is our biggest match of the season. If we want to stay in the Champions League, it's necessary to have a magical night and to play the best match possible.
"Arsenal are probably the team that is playing the best football in Europe right now, but they could easily suffer a bad day. It's our job to make sure they do.
"I don't think they will come at us with confidence because they are still not guaranteed to go through."
Goals from Mesut Ozil and Olivier Giroud secured Arsenal a 2-0 win in the earlier meeting at the Emirates Stadium, but Reina feels that Napoli are evenly matched with the Premier League leaders.
He said: "The danger comes not just from Ozil or Giroud. They have a strong team. Players like Cazorla, Mikel Arteta, Wilshere, Walcott, they are all sensational. But we have confidence in our team and we will be strong."