Premier League: Sergio Aguero delighted with Manchester City boss Manuel Pellegrini
Sergio Aguero is loving life under Manuel Pellegrini, but insists the Chilean does not just heap praise on him.
Last Updated: 14/12/13 12:19pm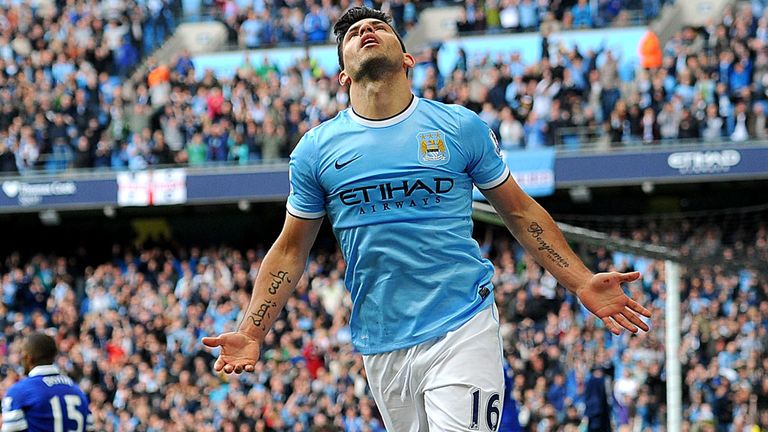 The Argentina international has been lauded by many this season, including Pellegrini, who has described him as the third best player in the world.
But Aguero insists he gets criticism from his boss too, telling the Daily Telegraph: "He does praise me, yes, but don't think he does not criticise me too.
"He can be tough, and he will criticise when he has to, he will tell it as it is when you need to be told.
"Like during the Southampton game recently he thought I was getting too overexcited when I was trying to finish chances, so he wanted me to calm down when I have a scoring opportunity. He also wants me to come back and defend more on occasions.
"Every manager has their own way of going about things and their own way of thinking, not just tactically, but how they are and how they carry themselves.
"But I think with Manuel, he talks to me a lot and he is always demanding that I give even more of myself out on the field.
"He wants me to make sacrifices and give 100 per cent at all times, so he works us really hard. Obviously, under the previous manager, we had talks and got on well, but with Manuel, he gives you more confidence and he is pushing me in a good way.
"So I'm obviously delighted to hear him say that I am behind only Lionel Messi and Cristiano Ronaldo right now. You're always very happy when you hear your manager speak highly of you, but now it's down to me to back that up every time I go on to the pitch in every game.
"It's really high praise. To be mentioned in the same breath as those two guys is great. It's an extra incentive for me to prove every time I play that I can be compared to those guys."
Negredo
Aguero has formed a very good relationship with new signing Alvaro Negredo, and he is pleased with how he has linked up with the Spaniard.
"We have a good partnership and things are going very well," Aguero said.
"Yes, it helps that we get on well off the pitch too, but it is an understanding that has developed really, really quickly.
"It only takes a split second to communicate with each other in Spanish. We talk to each other in Spanish so we can understand each other better because of the language, that helps.
"But Alvaro and Messi are two totally different players. Alvaro is more of a box player, he holds the ball up well, turns well andbrings other players. He has a great shot on him and he scores goals too, but Leo is a different class because he is the best player in the world.
"Alvaro is my team-mate and I obviously rate him very highly, but Messi is a different story altogether. He is more nimble and quick and he will play a pass in to you. Basically, Argentina equals Messi. He is the national team."
Aguero is continually linked with moves back to Spain, but he admits when he chats to the likes of Lionel Messi - he talks up City rather than the other way around.
"With Argentina, we have big chats and we all get together quite often on international trips," Aguero said.
"Whether it is [Ezequiel] Lavezzi telling us about PSG, [Gonzalo] Higuain about Napoli or Messi about Barcelona, we all talk about what is going on at our own clubs.
"Messi hasn't asked me particularly about City, but yes, we do all talk about our own clubs because we are keen to know what is going on. But of course I say that here [City] is the best and that they should all come and sign."