Premier League: Defiant Malky Mackay 'won't quit Cardiff' after Vincent Tan rebuke
Cardiff boss Malky Mackay insists he will not resign, despite a fresh rebuke from club owner Vincent Tan.
Last Updated: 17/12/13 4:46pm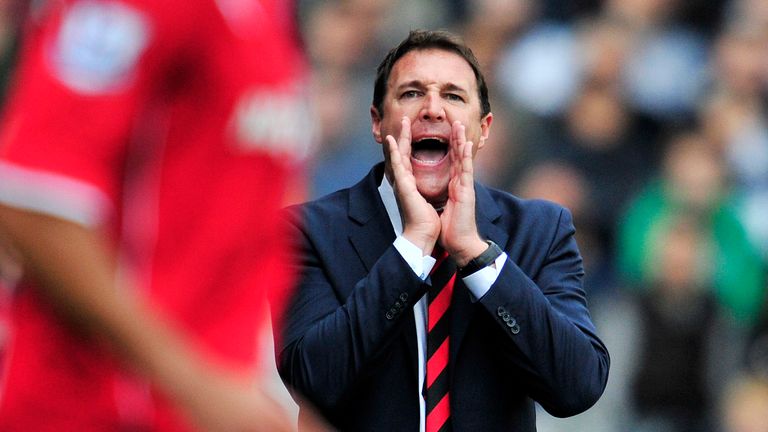 Tan hit out at Mackay via a statement from club chief executive Simon Lim, who said the owner was "extremely upset" that his manager had gone public with a desire to strengthen the squad in January.
Mackay, whose side moved to 15th in the table following a 1-0 win over West Brom, reckoned he needed "three quality additions" but that assertion was seen by his superior as "unfairly raising expectations".
The relationship between the pair has become increasingly strained following Tan's surprise decision to dispense with head of recruitment Iain Moody - due to a summer overspend - and replace him with an unknown 23-year-old who was formerly on work experience.
But in an interview that will be broadcast on Tuesday evening on BBC Radio Wales, a defiant Mackay said: "I will not resign from my post. I was surprised obviously, but at the same time my job doesn't change.
"It's a job only three-quarters done as far as I'm concerned - making Cardiff a sustainable Premier League team.
"I have a great group of players who are competing at this level and enjoying this level. The fans are enjoying being at this level and my duty is to make sure we continue to do that.
"It would be wrong of me to walk away from a job because the owner doesn't want to give me more money in January."
Fans have expressed dismay at the latest off-field distraction, with the Cardiff City Supporters Trust unequivocal in its backing for Mackay.
Trust press officer Phillip Nifield said: "We've got enough problems staying in the Premier League without all the off-field stuff which is really unnecessary, and really disappointing.
"It's perfectly normal for a manager to draw up a wish-list before the January transfer window and you would be surprised if he didn't want extra players. The chairman's surprise is a surprise in itself.
"There is usually only one winner between an owner and a manager. Malky has achieved something we never had in terms of taking us to the Premier League and the fans in general would be disappointed if he went because of what has happened with Mr Tan.
"The owner has scored a few own goals in terms of changing the colours of the badge, and while the fans generally appreciate the financial clout he has brought us, it should not mean we are not allowed to question the sort of things he's done."