West Ham manager Sam Allardyce hails anti-racism work in England
Sam Allardyce says England should be proud of the work of anti-racism campaigners in football.
By Dev Trehan
Last Updated: 18/12/13 9:46pm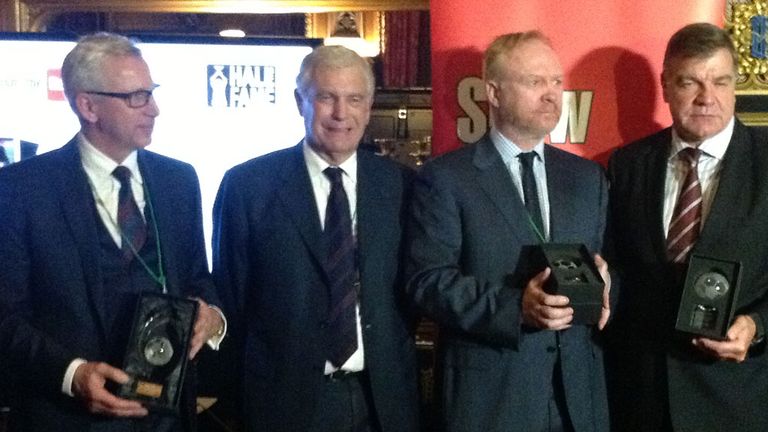 Allardyce was speaking after becoming one of four managers inducted into the Show Racism the Red Card Hall of fame at a ceremony in the Speaker's Residence at the Houses of Parliament on Tuesday night.
And Allardyce insists people in England should be proud of the various bodies that are leading the way in trying to rid racism from the game.
"I travel all over Europe and I travel far and wide while I look for players," Allardyce told skysports.com. "However much criticism there is about this country being racist, we are the best. We've done the most - there's still a long way to go but I go to many countries all over Europe and we've progressed so far compared to those and I think we should be proud of that.
"I know we're going to continue to push this campaign but tonight is a show for everybody that we're moving in the right direction.
Newcastle United manager Alan Pardew, former Birmingham City manager Alex McLeish and Northampton Town manager Aidy Boothroyd were also recognised at the ceremony hosted by House of Commons speaker John Bercow.
Allardyce said he was a proud to be recognised for his work to combat racism in the game but insisted a lot of credit must go to the people working behind the scenes.
"I'm obviously delighted and of course for more years than I care to remember we've started our community campaign our showing racism the red card for as far back as I can remember," he said.
"To listen to everybody speaking tonight about just how far it's come, and just what we've achieved over a huge amount of time - particularly in football circumstances - it's a great pleasure to be here tonight and to thank everybody.
"It's not just about me on the front line because I'm a personality as a manager but also all the workers and the volunteers and all the guys who do so much to continue to promote this fantastic campaign in terms of continuing going forward."
Show Racism the Red Card was founded in 1996 and the organisation now delivers training to more than 50,000 people in schools and football clubs annually.
Allardyce paid tribute to the organisation's work and says football must lead the way in terms of tackling the problem of racism in society.
"There's a lot of work that still needs to be done but football leads the way (in tackling racism)," he said. "If you listen to Gordon Taylor and the people running this campaign it has spread far and wide throughout Europe, UEFA and FIFA and we have led the way.
"The guys (at Show Racism the Red Card) have led the way and done a fantastic job - not just in this country but also to make more countries aware of the situation and sooner or later there has to be zero tolerance of the situation."