Premier League: Manchester United better at high tempo, says Phil Jones
Phil Jones believes Manchester United must continue to play at "a higher tempo" after winning their last four games.
Last Updated: 22/12/13 11:11pm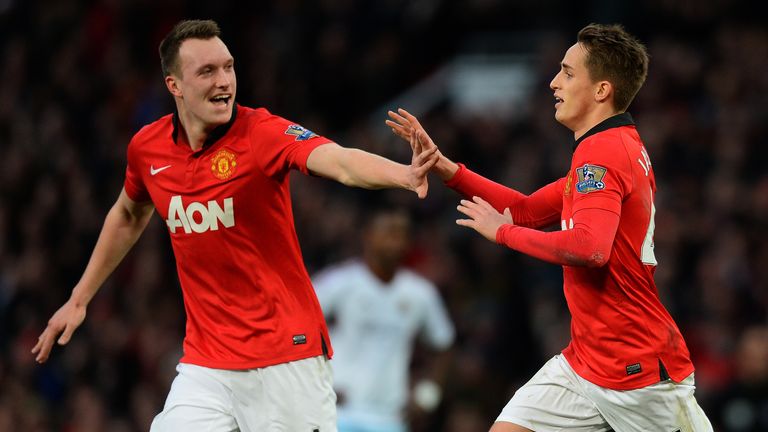 Since suffering back-to-back home defeats by Everton and Newcastle, David Moyes' Red Devils have seen off Shakhtar Donetsk in the Champions League, Stoke in the Capital One Cup and Aston Villa and West Ham in the Premier League.
Moyes was unhappy at the number of missed chances in Saturday's win over the Hammers at Old Trafford, and also the concession of a late goal after Alexander Buttner failed to switch onto the offside trap that would otherwise have prevented Carlton Cole from grabbing a consolation.
But there was internal satisfaction of the speed at which United operated, in marked contrast to the tepid performances in their previous home league outings.
"We needed to play at a higher tempo," said Jones.
"We have done well to bounce back from those disappointments against Everton and Newcastle. We have shown on Saturday - and in the previous games - we are starting to find our feet again in the United way."
Jones believes the manner of United's recent wins suggests a better second half to the season is in store.
"It has been a good couple of weeks," said Jones.
"I think we can all start to feel there is more of an understanding at what the manager wants. The last four games have been an indication we are getting to that stage.
"We are in a good place at the moment. We are playing well. We are passing the ball well."
Victory at Hull on Boxing Day would secure the longest winning run of the Moyes era.
And whilst United are destined to celebrate Christmas Day in their lowest position of the Premier League era, there are enough matches involving the sides above them over the festive period to give them hope of edging closer to the top four at the very least, should their present form be maintained.
"We can only concentrate on our games and what is in front of us," added Jones.
"We have a chance to put points on the board pretty rapidly over Christmas and we have to try and do exactly that."