Transfer news: Palmeiras confirm interest in Atletico Mineiro forward Ronaldinho
Palmeiras executive director Jose Carlos Brunoro has revealed the club would be interested in signing Ronaldinho.
By Paulo Freitas
Last Updated: 30/12/13 4:08pm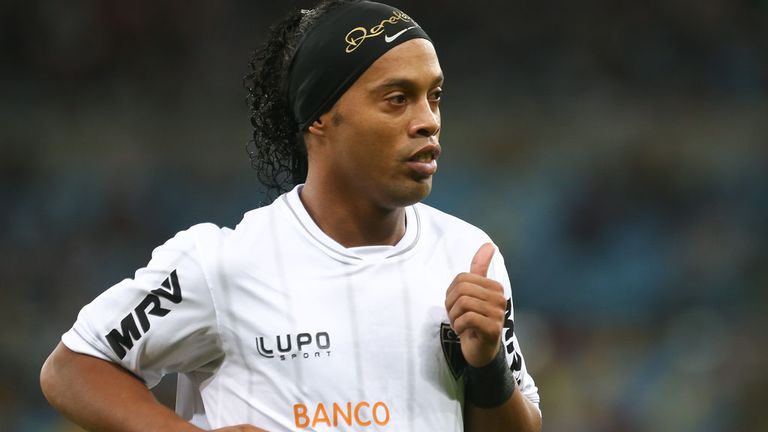 The Brazilian forward returned to South America in 2010 after a nine-year spell in Europe with Paris Saint Germain in Ligue 1, Barcelona in La Liga and AC Milan in Serie A.
After two years with Brasileiro side Flamengo, Ronaldinho switched to fellow Brazilian top flight outfit Atletico Mineiro in 2012.
Ronaldinho's future now hangs in the balance, with his current contract at Mineiro due to expire on New Year's Eve and a new deal yet to be agreed.
Palmeiras, promoted from the Brazilian second tier last term, have expressed their interest, with director Brunoro claiming the only stumbling block could be the player's wages.
"Ronaldinho will be linked to all clubs as he is a great player, Palmeiras will never sign someone like him paying his full wages," he told Lancenet.
"The president tells us that the finances are important so we don't delay the payment of salaries.
"But it's logical that a player like Ronaldinho interests us, but the process of leaving a club takes a long time.
"It's very hard to sign anyone at this time of year. But after this period, if he has not reached an agreement with Atletico Mineiro, we will surely think about it."
Despite the speculation, Ronaldinho remains coy on the subject of potential moves, leaving matters in the hands of his agent and brother, Roberto Assis, while he takes a break.
Speaking to Globo Esporte in the aftermath of Mineiro's 3-2 victory over Guangzhou, he said: "I am not thinking about any other club besides Atletico Mineiro, now I want to think about my vacation and forget football.
"My brother will talk with the board to decide my future."