Tottenham boss Tim Sherwood welcomes Emmanuel Adebayor availability for Arsenal trip
Tottenham head coach Tim Sherwood is looking forward to unleashing Emmanuel Adebayor on Arsenal on Saturday.
Last Updated: 04/01/14 4:31pm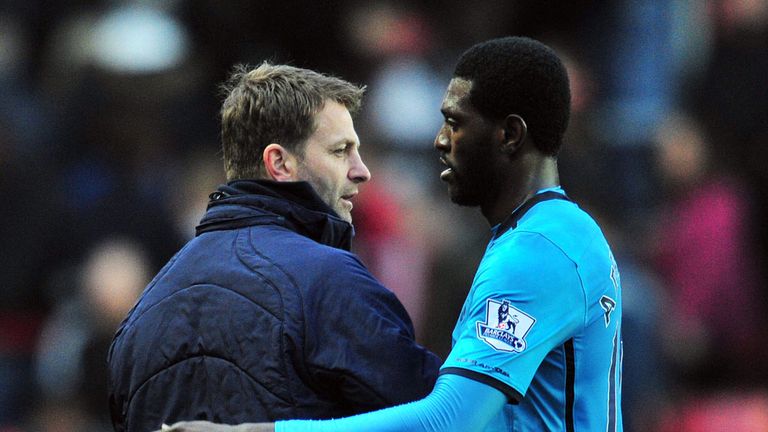 The former Gunners striker was rated doubtful for the FA Cup third round tie at the Emirates on Saturday after he was carried off on a stretcher in the second half of Tottenham's 2-1 win at Manchester United on New Year's Day.
However, he has been passed fit and is set to start in the north London derby showdown.
"It didn't look great when he came off on that stretcher but he is a warrior," Sherwood said.
"He had cramp in every part of his body. We weren't sure what (part of his body) to rub and put ice on next.
"He was really struggling but there is no holding him back at the moment.
"It's huge for us that he is back. When Arsene Wenger, the Arsenal players and their fans saw him come off at Old Trafford, I'm sure they were pleased.
"But unfortunately he's going to be walking out against them on Saturday."
Adebayor was ostracised from the first team by former boss Andre Villas-Boas but Sherwood has not had any problems with the striker.
He said: "I am not going to worry about how he was treated. I am worried about how I treat him now.
"I am certain I will show him the respect he deserves as long as he continues to show that respect to me.
"All I am seeing is that he is a player who is at the top of his game and is ready to give his all for the football club."