Ole Gunnar Solskjaer won't dwell on past when Cardiff face Newcastle
Ole Gunnar Solskjaer will not dwell on one of his worst football days when he sends his Cardiff side out at Newcastle.
Last Updated: 04/01/14 2:14pm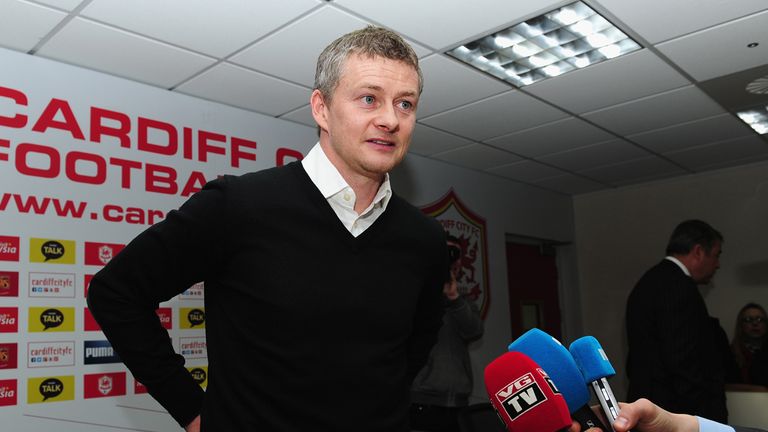 The 40-year-old Norwegian will take charge of the Bluebirds for the first time in the FA Cup third-round tie at St James' Park, a ground where he suffered a 5-0 defeat during his first season as a Manchester United player in October 1996.
However, Solskjaer prefers to remember United getting their revenge in April 2003 when he scored in a 6-2 demolition of the Magpies on Tyneside.
"The 5-0, yeah, I did play in that game," he said.
"It was one of my worst memories as a player, but I've had good memories there too, like the 6-2 game.
"I have good memories and bad memories as you do at most grounds. St James' Park is a place where I have had ups and downs.
"It's a difficult place to go, but Cardiff's current away fixture list is Arsenal, Newcastle, Manchester City and Manchester United so there are no better places to go and show what you are capable of.
"Having been a player I know how they will feel, what they feel when they go into the stadium and what kind of atmosphere will greet them there."
Aston Villa manager Paul Lambert has questioned the value of the FA Cup but Solskjaer will not accept anything less than 100 per cent in a competition he won twice as a player.
He said: "Every game is important. We know how close Cardiff were to lifting the cup a few years ago, so we go in there hoping to go through to the next round. The Premier League is very important but the FA Cup gives us a chance to build momentum.
"For me the game is great because it is the first game and I have had a six week break since the Norwegian Cup final and I am eager to get going.
"For me it is a way of getting into the job. Of course the Premier League is vital but now it is the FA Cup and the next game is the most important one.
"We are not going to go there and do 99 per cent, we go out there 100 per cent."