Premier League: West Ham boss Sam Allardyce pleased with backing
Under-fire manager Sam Allardyce has admitted he was pleased to receive the recent backing from West Ham's co-owners.
Last Updated: 08/01/14 6:51pm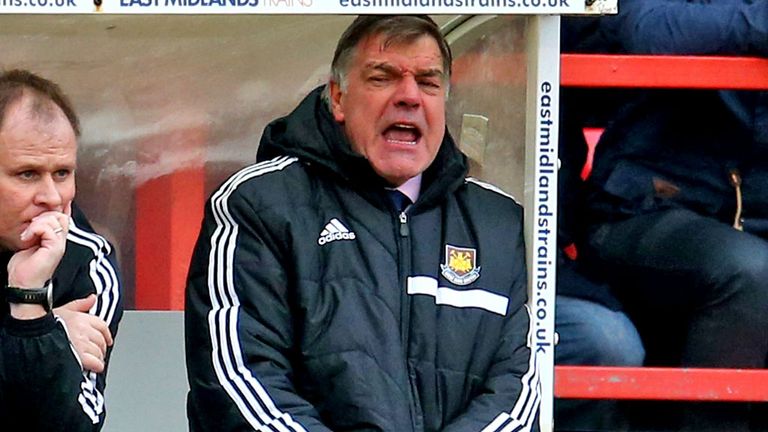 Sullivan and Gold produced an open letter which was published on the club's official website in defence of Allardyce and his backroom staff after the Hammers' descent to second bottom of the Premier League and following their 5-0 FA Cup third round thrashing at Championship club Nottingham Forest.
Allardyce said: "I'm obviously pleased by the united front we are trying to keep under these difficult times at the moment.
"When it comes public from the co-chairmen it is nice to see and hear. From our point of view we are all understanding the difficult position we are in at the moment.
"We all have to work through it together in the hope that we turn it around in to a positive reaction in terms of our results.
"I wasn't backed by my last two chairmen and got sacked for no reason at all.
"The day-to-day running of the football club is all I'm focused on. I keep in touch with the owners on a regular basis, it is a daily basis at the moment. I would be more worried if that communication went quiet."
With just one win in their last 13 league fixtures, West Ham are struggling for any sort of form and their City Ground humiliation only compounded the current bad run.
Allardyce said he understood why the fans would be feeling a little downbeat but once again defended his decision to field a young side at Forest.
"I have a lot of sympathy for them," he said of the supporters who travelled to the east Midlands.
"All I can do is say that I was telling everybody weeks before we played Nottingham Forest that the situation we are in means I would be playing some of the young players in the team.
"We had to prioritise and I told people weeks before. It is now done and dusted and is out of the way."
The majority of West Ham's problems have stemmed from the fact they currently have only 14 fit players, with no recognised centre-back available in recent weeks.
That has changed after the signing of experienced centre-half Roger Johnson, signed on loan from League One club Wolverhampton Wanderers on Monday until the end of the season.
The defender could make his debut in the cup semi-final and Allardyce said: "The one big thing about Roger is his Premier League experience at Birmingham City. His height, which has been a weak point for us recently, and a desire to come and show he has still got the capabilities of coming to play at this level.
"He is not cup-tied, so going into one of the biggest games of the season for us with someone with his experience against one of the biggest sides in the Premier League is a help.
"If you look across the board at Man City, aerially we have to be very competent and Roger will be a great help in that area particularly.
"He is very determined and excited about the opportunity he has got after being basically frozen out at Wolves."
Watch Manchester City v West Ham United on Sky Sports 1 HD from 19.00 on Wednesday night