Jerome Champagne confirms bid to challenge FIFA president Sepp Blatter
Former FIFA deputy general secretary Jerome Champagne has announced he will bid to succeed president Sepp Blatter.
Last Updated: 20/01/14 11:45pm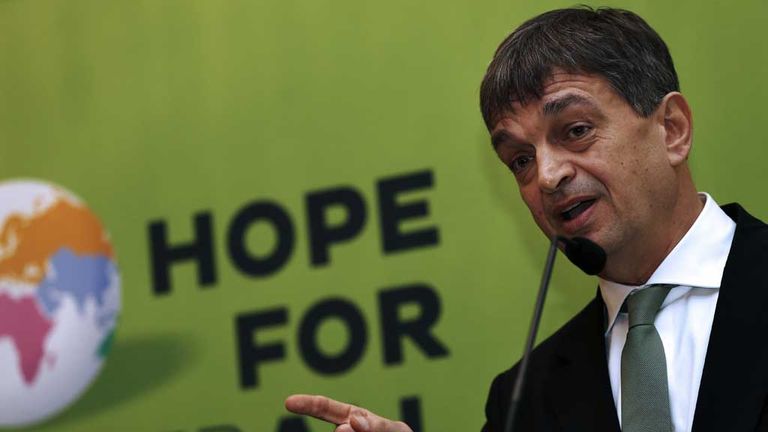 But Champagne does not believe he could beat Blatter if the Swiss decides to stand again in 2015.
Blatter is yet to decide whether he will bid for a fifth term and will not announce his intentions until just before the FIFA congress in June.
Asked at the London launch of his campaign if he could beat Blatter, Champagne said: "I don't think so. He's someone of relevance."
All the indications are however that Blatter will run, and that means he will be up against his former right-hand man Champagne. Champagne ran Blatter's successful election campaign in 2002.
Frenchman Champagne, 55, a former diplomat, worked at FIFA for 11 years between 1999 and 2010 and is a former deputy Secretary General of world football's governing body.
If Champagne beats Blatter, he would become the first French president of FIFA since the legendary Jules Rimet.
Champagne, 55, will stand on a modernising ticket, though he wants to keep in place many of the game's traditional values.
Some of his proposals are radical. He would like to see an orange 'sin-bin' card introduced, with players ordered off the pitch for a short time. He would also like to give referees the power to penalise teams territory, as happens in rugby union.
Another proposal would see only captains allowed to talk to the referee.
"It is a very emotional issue for me," he said. "As a teenager I worked at France Football, which was founded by Rimet in 1946. Now 37 years later I am in a position to run for an office Jules Rimet presided over. You can have these circles in life."
Blatter will be 78 in March and he has been at the helm of FIFA since 1998.
UEFA head Michel Platini, 58, could also stand - meaning Champagne would be taking on men who he has had close ties with in the past.
As well as working with Blatter as FIFA's international advisor for much of his 11 years in Zurich, Champagne's introduction into the world of football politics came through his fellow Frenchman Platini.
If that happens, Champagne wants to take on both in a televised debate.
"I would welcome a TV debate with anyone else who will stand. Football is so important for so many millions, let us show the world that we are open and democratic and transparent.
"The election next year is so important it will define football for the next 15 or 20 years so let us have a deep, meaningful discussion."
Champagne's campaign has already been given the backing of legend Pele.
The Brazilian, widely regarded as the world's greatest-ever player, gave his backing in a videotaped message shown when Champagne launched his bid at a news conference in London.
Pele said: "I cannot stay away from a debate which is so important for the future of football and thus, I support Jerome Champagne and his vision.
"Football today enjoys a lot of success but also faces many problems requiring a strong and democratic FIFA with a vision in favour of everyone, and a governance which is both universal and modern.
"FIFA must continue doing what has been done well in the past, taking its competitions and the World Cup to all countries and also continue its development programmes, but has to adapt itself to the 21st century and to the world of today."