Champions League winner Edgar Davids backed to succeed after leaving Barnet
Edgar Davids did the best job he could at Barnet and has been backed for future success by his former chairman.
By Dev Trehan
Last Updated: 21/01/14 10:57am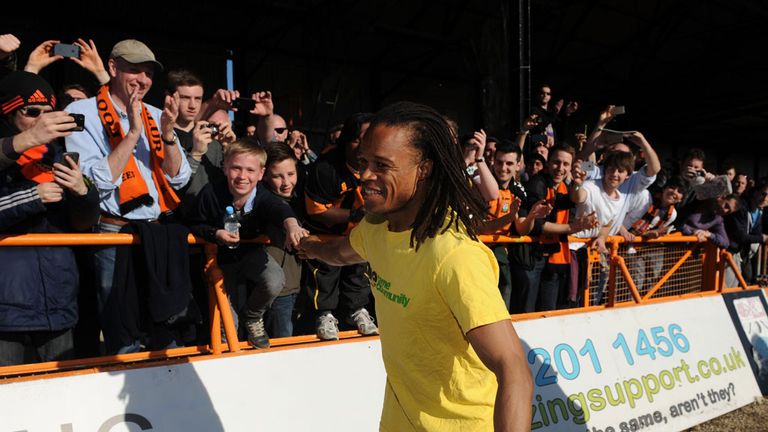 The Champions League winner's 15-month stint as head coach of the Skrill Premier side ended on Saturday after Davids left the club by mutual consent.
The Dutchman's departure came just days after his former international team-mate Clarence Seedorf was appointed manager of AC Milan, fuelling speculation that he could join the 37-year-old in Italy.
Kleanthous felt a change was the best thing for all parties, insisting he had thoroughly enjoyed Davids' spell at The Hive.
"We both agreed it was the right thing," he said. "It wasn't so much of a case of who told who. It was more just the realisation that it wasn't working.
"But for the 15 months he was here, he gave us a bigger profile and helped and supported the club as best he could - I loved his time here.
"Maybe ultimately his inexperience was part of the problem but he goes with our best wishes and I am sure he will go on and further his career.
"But for us and him, it was the right time to part company."
The former Juventus and Barcelona midfielder initially joined Barnet as player and joint head coach alongside Mark Robson in 2012 with the club languishing at the bottom of League Two.
Davids took over managerial duties when Barnet sacked Robson shortly after and under his guidance fought their way back to within sight of preserving their league status, but for a last-day defeat to Northampton.
The club were expected to challenge for automatic promotion this season but have struggled to find consistency which Kleanthous indicated brought the situation to a head.
"We are sitting tenth in the Conference and clearly what we were doing wasn't working," he said. "So if it is not working, you have got to make a change. It was the right thing do to for him and us.
"It's absolutely crazy that we are tenth - I can't believe we are tenth.
"Look at the quality of our squad. We have the best facilities outside of the Premier League and probably some of the Premier League teams. We have a really talented squad of players.
"We have a very strong structure and we have good kids coming through. We shouldn't be where we are and I don't understand why we are where we are."