Mark Hughes says Peter Crouch will stay at Stoke amid QPR speculation
Stoke boss Mark Hughes says he has no intention of selling Peter Crouch, insisting he is looking to add to his squad.
Last Updated: 24/01/14 5:27pm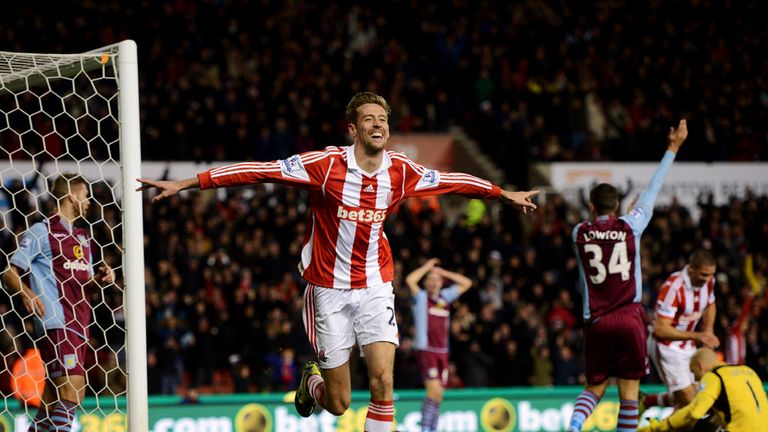 Crouch has been linked with QPR - the club where he made his league debut as a 19-year-old - and would see him once again link up with former Tottenham and Portsmouth boss Harry Redknapp.
But asked on Friday whether he would consider letting Crouch go, Hughes said: "No, it is not an option."
The Stoke manager also revealed he had hoped to get the majority of his transfer business done by now, but has been frustrated with his efforts so far.
"There was a point where we thought there was a possibility of doing our business quite early, but that hasn't panned out, and we have missed out on a number," he said.
"We have probably been misled somewhat on others as well - in terms of the information we are getting and the plans for certain players.
"You have to shrug your shoulders and move on. It is about making sure at the end of the window, we are stronger than we were at the beginning."
Hughes was non-committal over his reported interest in Sunderland midfielder Lee Cattermole, but did say the chances of him ending up at the Britannia Stadium were slim.
"I think, given that Sunderland had a fantastic result the other night - I was there at the game (Sunderland's semi-final second leg at Manchester United) and they played exceptionally well. The player you have mentioned played really well, it is highly unlikely that one will happen."
Sunderland manager Gus Poyet confirmed in his Friday press conference that the club had received no bids for Cattermole.
"There haven't been any offers. It's very easy for me to say that," Poyet said.
"It's difficult because the team that is being linked is the team that we are playing next week, so it's not normal, I would say. It's a tricky situation, I suppose for them as well.
"If they really want him, whether they do it before or after, we will see."