Takeover of Leeds United by Italian Cellino family agreed by GFH Capital
The takeover of Leeds United by the Italian Cellino family has been agreed by the current owners.
Last Updated: 01/02/14 4:41pm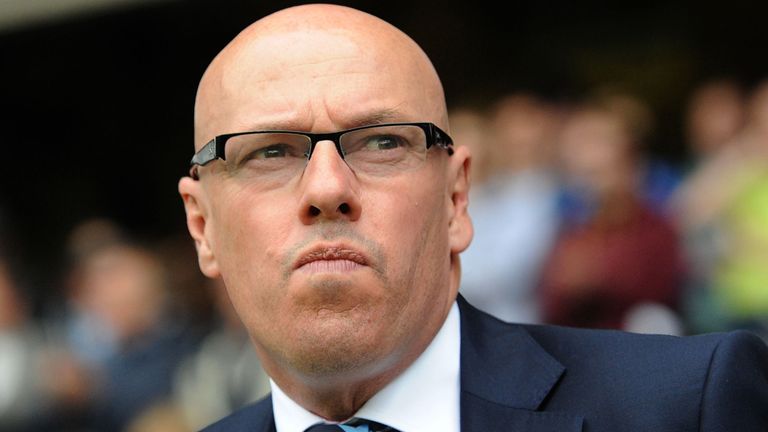 In a statement on the club's website on Saturday, GFH Capital confirmed they have agreed to sell a 75 per cent stake in United to Eleonara Sports Ltd, the Cellino family's company.
The news, which was expected, follows the dismissal of boss Brian McDermott on Friday, which Sky sources understand was driven by the Cellinos.
However, in what could be a dramatic twist, reports from Yorkshire on Saturday suggest that GFH Capital are now working to have McDermott reinstated.
News of Massimo Cellino's presence at Elland Road on Friday night - and McDermott's sacking - spread on social media and the police were called as a taxi sent to collect him was repeatedly chased away and exits were blocked.
McDermott, 52, had been in charge at Elland Road since April 2013, at which point he signed a three-year contract.
Leeds are currently 12th in the Sky Bet Championship and are eight points off the play-off places.
The former Reading manager was in charge for just 36 games, 15 of which ended in wins, six as draws and 15 as losses.
The news of McDermott's departure triggered club sponsor Flamingo Land to withdraw its backing in protest.
Cellino, the owner of Serie A side Cagliari, has had a delegation in Leeds for the last week to prepare for the takeover and he was present at Elland Road for Saturday's derby with Huddersfield.
His influence became further apparent on Saturday morning when Cagliari announced on their website that playmaker Andrea Tabanelli has been loaned to Leeds.
One of his party is the former Middlesbrough defender Gianluca Festa. It is understood that on Tuesday it was requested that Festa sit in the dugout with McDermott during Leeds' 1-1 draw with Ipswich.
It is thought Festa is Cellino's first choice to replace McDermott but until Friday the chance had not arisen.
But, as it emerged that Cellino was in the driving seat to buy the club after a management buyout by current managing director David Haigh collapsed, McDermott's position looked all the more vulnerable.
Cellino - an agriculture tycoon known as 'The King of Corn' in Cagliari - still has to pass the Football League's Fit and Proper Person Test and that is not a given as he has previous conviction for fraud.
If he fails it, a consortium headed up by former Manchester United director Mike Farnan is standing by.
Farnan tweeted: "We continue to seek dialogue and have substantial backing with offers of support increasing by the minute."
In a statement at lunchtime on Saturday, GFH said: "Following recent media reports and speculation, GFH Capital would like to confirm that it has agreed to sell a 75 per cent stake in the club to Eleonora Sport Ltd, a company owned by the Cellino family who have many years' experience in football and who plan to invest substantially in the club including the re acquisition of Elland Road.
"Eleonora will be working on completing the required Football League approval.
"The Cellino Family is a well-known Italian sports family, who have owned Serie A side Cagliari since 1992. They come to English football with an ambition to support Leeds United financially to take it to the Premier League and a belief that the club can sustain top-flight status.
"Since the agreement, Leeds United is in discussion with Elenora Sport Ltd. on a number of issues concerning the club matters including the structure of the management of the first team."