FA Cup: Gus Poyet vents frustration over Sunderland's fixture pile-up
Sunderland boss Gus Poyet admits a draw would be worse than a defeat in this weekend's FA Cup clash against Southampton.
Last Updated: 15/02/14 4:11pm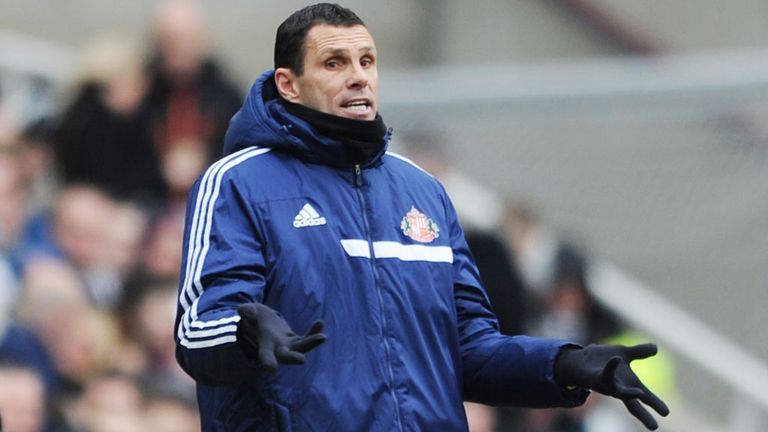 Poyet has steered Sunderland out of the Premier League drop zone and into the Capital One Cup final since he took charge at the Stadium of Light in October.
But the Black Cats have been given little respite this season as they next face Southampton in the FA Cup fifth round, while a number of their drop rivals take a much-needed rest.
Poyet insists it's "impossible" for him to plan ahead and has urged football's governing bodies to radically change the fixture schedule.
"It's something that should be resolved early," said the Uruguayan. "I think we - I put myself in that we - part of football in England, we put ourselves in situations we shouldn't.
"We complicate things very easy and I cannot tell you, if we have a draw tomorrow, where it's going to be in the next few weeks. It's impossible to know when you are going to play the replay and when you're going to play the next round.
"It's tough, we like to plan ahead. It becomes impossible. We're changing weekly. There are things you can cope with, but when it's constant, it becomes a little bit of a problem and I don't like that.
"We don't know what we are going to do in 10 days, maybe 12. It's not right and if somebody can say to me 'that's right', then we've got a really different opinion on something easy. There is no common sense."
Poyet has been trying to manage his players' workload as they target wins in the league and cup during the crucial closing months.
He is hoping to avoid more uncertainty over fixtures and admits a draw against Saints would be worse than a defeat.
"Yes, because I want to have my next three months done and dusted and clear," he said.
"When we take a decision on a player like (Steven) Fletcher not to play for a couple of weeks, we know who we are playing in the next two weeks.
"Right now we don't and that's wrong. If it was a manager responsible, he would get the sack, but it's not a manager, so he won't get the sack."