Manchester City confirm Etihad Stadium expansion
Manchester City have confirmed they have received permission to increase the capacity of the Etihad Stadium.
Last Updated: 14/02/14 7:55pm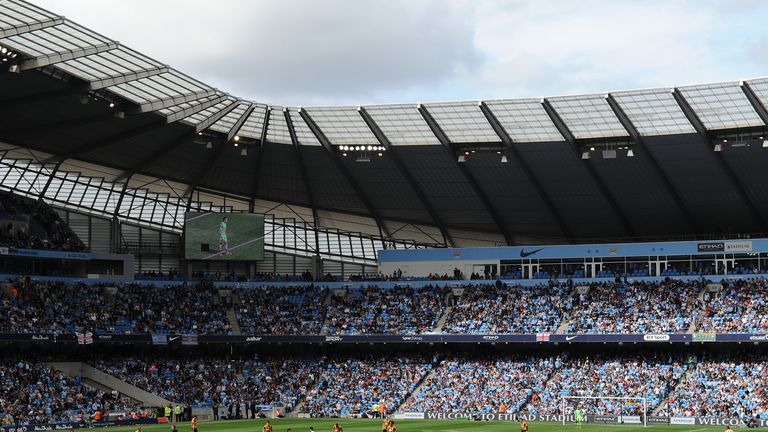 On Thursday, Manchester City Council announced they had received and granted permission for the club to add up to 14,500 extra seats to the stadium.
This allows the club to add 6,250 extra seats at either end of the ground and 2,000 around the pitch.
However, City will take an incremental approach by first developing the south stand before then making a decision on further development.
"Manchester City Football Club has today received formal notification of the granting of planning permission to expand the Etihad Stadium," read a statement on the club's official website.
"It is the club's current intention to first proceed with the development of the South Stand. The opportunity also exists to expand the North Stand and to introduce additional pitch-side seating in the future for which planning permission has also been granted."
The planning permission granted on is valid for three years, and City would need to take up the opportunity to begin work on the North Stand within that time or submit a fresh application.
The initial expansion will take the ground's capacity to around 54,000.
It will be the club's second major construction project in quick succession following the building of the £200m City Football Academy (CFA) adjacent to the stadium.
The CFA, which will become the training base for all the club's teams and house medical and accommodation facilities, is due to open later this year.
Both projects underline not only City's determination to develop world-class facilities at their Etihad Campus, but also their commitment to local regeneration.
City's work has contributed significantly to the development of east Manchester, with a sixth-form college and a leisure and retail centre already being built alongside the CFA.
The stadium expansion, according to the planning application, is expected to created 160 temporary jobs during construction and a further 110 match-day positions once the work is complete.
The work will also continue City's remarkable development on and off the pitch since their takeover by the Abu Dhabi United Group in 2008.
The stadium was built in 2000 for use in the 2002 Commonwealth Games.