Europa League: Dynamo Kiev v Valencia clash moved to Nicosia
Valencia say their Europa League clash with Dynamo Kiev in Ukraine on Thursday has been moved to Nicosia.
Last Updated: 19/02/14 11:17pm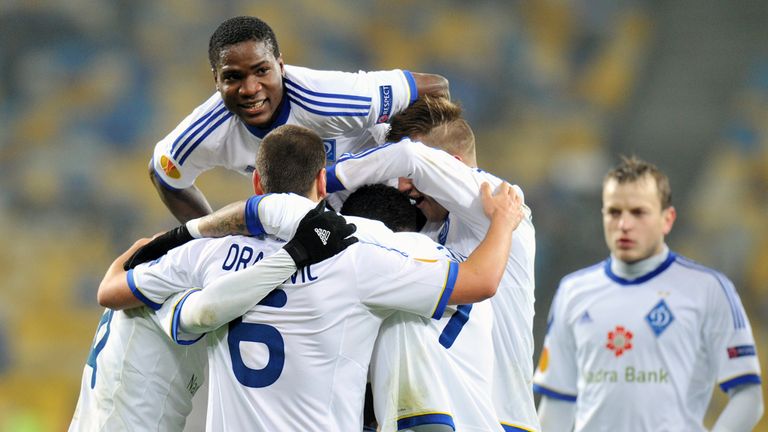 UEFA had said earlier on Wednesday they were monitoring the situation in the Ukrainian capital, where there have been anti-Government protests lasting nearly three months.
The violence has recently escalated, with Ukrainian authorities saying 25 people have died and more than 240 have been injured during clashes between police and anti-government protesters since Tuesday.
Valencia president Amadeo Salvo said: "It was very difficult to play in Kiev. We provided security but there are many contingencies that cannot be controlled and it is best to play on a neutral field."
The game will kick-off at 6pm GMT, as previously scheduled at the GSP Stadium.
Tottenham are also due to play Ukrainian opposition on Thursday and they are keeping fans up to date with regular travel advice, with UEFA saying the game is due to go ahead despite a day of mourning being called.
A spokesman said: "The team is there, they have had their press conference. As it stands there is no indication it would not go ahead."
Although their clash with Dnipro in Dnipropetrovsk takes place some 220 miles to the south-east of Kiev, fans heading to the game may have to do so via Kiev.
A statement on the club's website read: "It has been widely publicised recently that the political situation in Ukraine has led to many demonstrations; particularly in the city of Kiev and those fans that are travelling via Kiev should take extra care. You should avoid all demonstrations and public gatherings as even peaceful protests can be unpredictable.
"We are aware that a number of our fans will travel to Dnipropetrovsk via Kiev and you should take extra care when in public areas and if travelling by train, keep all your belongings together and in sight at all times.
"The British Embassy advises that you should carry your Passport with you at all times for ID purposes. Police often carry out passport checks on foreign nationals, but will introduce themselves and produce a document verifying their request. If you are detained for not being able to present your passport, you should ask for an official report."