Europa League: Tim Sherwood trying to stay focused on Dnipro challenge
Tottenham boss Tim Sherwood is doing his best to focus on football ahead of their Europa League clash with FC Dnipro.
Last Updated: 19/02/14 7:35pm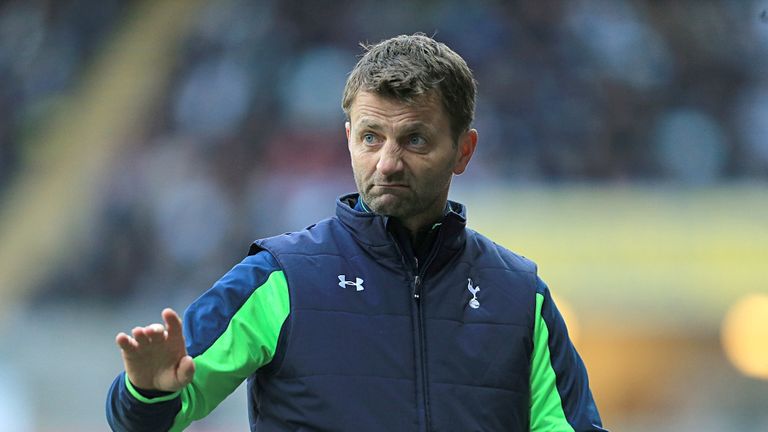 Spurs are in the Ukraine amid a backdrop of political turmoil in the country, but their match in the city of Dnipropetrovsk is still due to go ahead despite a national day of mourning being declared by president Viktor Yanukovych.
Their opponents are based some 220 miles south east of the capital Kiev, where scenes of death and bloodshed are being broadcast around the world as police clash with anti-Government protestors.
But Sherwood is keen that those events do not affect his players as he sets his sights on a place in the last-16 of a tournament he is desperate to win for the club and for his own hopes of keeping the job long-term.
"We are just concentrating on playing football and getting the game out of the way," he said. "It is never great to see scenes of violence in any country at any time. It is not something we concentrate on.
"We respect the tournament, we have come this far and we want to continue and progress in the competition.
"The players we have left at home are the players who are injured and would not be fit to play in the team. We hope they will be fit for Sunday [the Premier League fixture at Norwich].
"We will probably have a minimum of eight internationals in the team, six of which you will probably see at the World Cup.
"It is the only cup competition we are left in and we have enough players in our squad to compete in both competitions and that is what we intend to do.
"We have seen that down the years, a lot of managers have won this down the years and gone on to bigger and better things. It is the priority of the club to win both - the place in the Champions League and the Europa League.
"We believe that we have a big enough squad to do that. Anyone who will tell you that winning trophies doesn't look best on the CV would be lying to you."