Swansea's Garry Monk questions Michael Laudrup's press conference
Garry Monk believes "there was no real point" to Michael Laudrup discussing his dismissal as Swansea manager.
Last Updated: 20/02/14 8:13am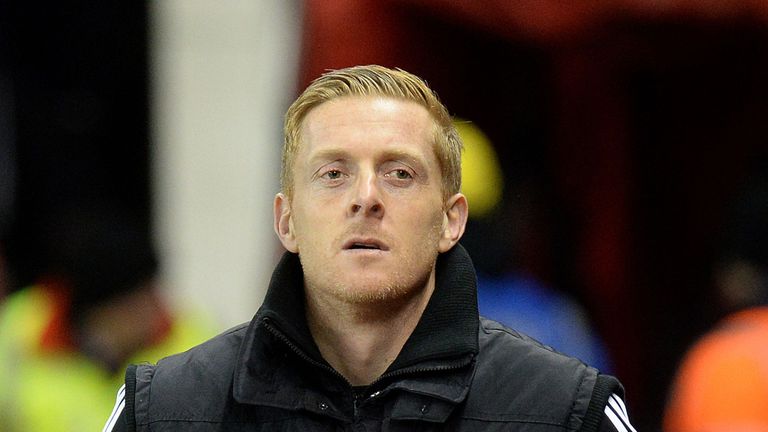 Laudrup held court for almost an hour at a Heathrow hotel on Tuesday, when he hit out at what he termed as "silly" and "incredible" reasons given by Swansea for parting company with him.
It came two weeks after Laudrup departed the Liberty Stadium and former club captain Monk was installed as head coach.
Laudrup is pursuing legal action against the Swans, but Monk has no intention of being deflected from preparing his players to host Europa League last-32 opponents Napoli on Thursday night.
"I have seen bits and bobs of what was said, and basically what I took from it was that he couldn't answer most of the questions for legal reasons, so there was no real point in having it," Monk said.
"If you call a press conference like that, you should be able to say what you want to say.
"It's not my problem, it's between the club and the chairman and the solicitors as it is apparently. We will just get on with it and move on.
"It was strange as I have never seen a manager lose his job and then two weeks later have a press conference about it but if that's what you choose to do, you choose to do (it).
"It's nothing to do with us. We have to move on."
Meanwhile, Monk has revealed star striker Michu will miss the clash with Napoli after suffering a setback in his return from an ankle injury which has sidelined him since December.
"It's been difficult," Monk added. "He came back into training, but he is still feeling soreness. We had to pull him out of training and he has to have an injection.
"It's nothing serious, but he needs two days' complete rest and we can build him up. He won't be available, he was eager to get out there but sometimes you can push yourself too much."