Michel Platini wants end to "triple punishment"
Michel Platini repeats his call for "triple punishment" to be dropped, reports Sky Sports' Bryan Swanson.
By Bryan Swanson
Last Updated: 24/02/14 6:52am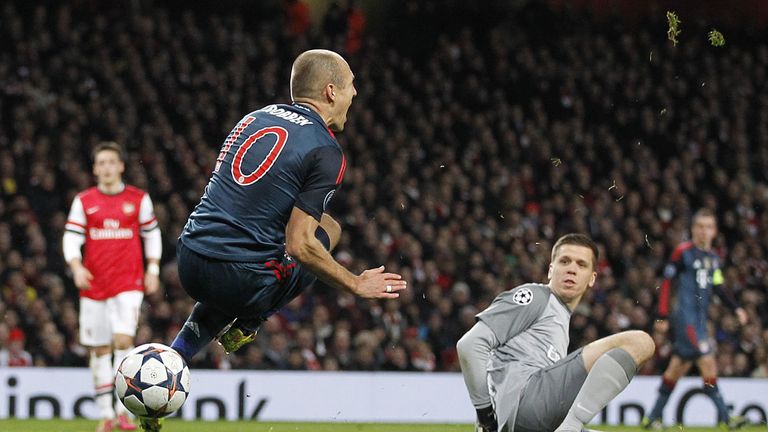 The UEFA President has defended the referee's decision to send off the Arsenal goalkeeper in the Champions League last-16 first leg for a foul on Arjen Robben that led to a penalty during Bayern's 2-0 win.
However, he described the rule itself as "stupid".
On Tuesday, Manchester City also fell foul of the rule when defender Martin Demichelis was sent off for lunging in on Lionel Messi and conceding a penalty from which the Argentine striker scored.
Barcelona went on to win the leg 2-0.
Speaking at a news conference on Saturday before the draw for the qualifying rounds of Euro 2016 Platini said: "For 15 years we have been trying to change this rule. All the technical committees of UEFA and FIFA are against this but when it has gone to the International Board (IFAB) it doesn't change,"
"Arsene Wenger said the referee killed the game but the referee had no choice - he has to respect this stupid rule."
UEFA's executive committee has proposed that the issue should be included on the agenda at next week's meeting of the International Football Association Board.
"I am against it, and I want it to be changed," said Platini, who has previously suggested alternative measures to deal with such situations.
In December last year, the Frenchman said: "I would change the system of cautions. I would do it like in rugby, where the perpetrator would be punished by being off the pitch for 10 or 15 minutes of the game. That means the team they are facing would benefit in the same match."
FIFA president Sepp Blatter, who will chair the IFAB meeting in Switzerland next weekend, views the situation differently to Platini, maintaining the sanction is a fit and proper punishment.
The IFAB, comprising four voting members from FIFA and four from the British FA, needs a 75% majority for a law to be changed.