England manager Roy Hodgson says Wayne Rooney can beat Charlton record
England manager Roy Hodgson believes Wayne Rooney can beat Sir Bobby Charlton's national goals record.
Last Updated: 24/02/14 7:49am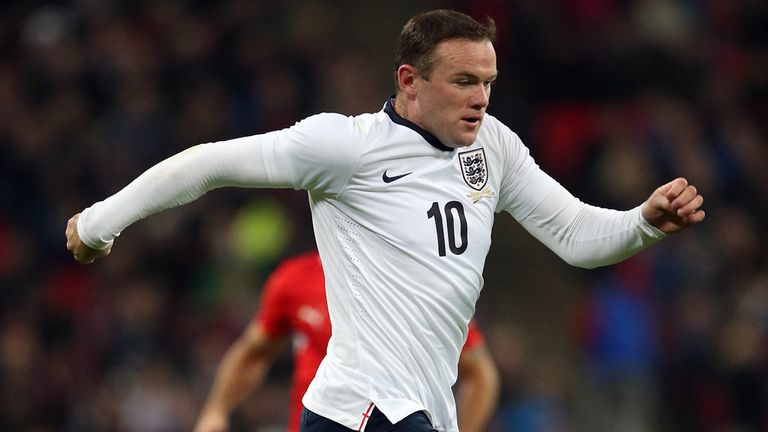 Rooney has 38 international goals to his name and Hodgson admitted he would speak to the striker about targeting the tally of Charlton, who notched up 49 for his country.
"I'm sure we will talk about it. We'll be together for a longer period of time (at the World Cup), and that kind of thing might crop up in an everyday conversation and it's quite good to have that," said the England boss.
"He's a long way behind Alan (Shearer) in the Premier League, but in terms of international goals he's definitely up there and we would want that."
Rooney, 28, has won 88 caps since making his debut as a 17-year-old against Australia in February 2003.
The Manchester United player is now part of a core of senior players within the England squad, along with the likes of Steven Gerrard, Frank Lampard and Ashley Cole, all of whom are still competing at the top in their 30s.
When asked if Rooney could emulate his experienced colleagues and continue to perform in the later years of his career, Hodgson replied: "You'd like to think so. He's a massive football man. He lives for football. Football is his life.
"There are plenty of other players we have at the moment who are 33, 34 and are still going strong, still doing good job s for their club and country, so why not Wayne?"
Rooney recently secured his club future by signing a new five-year deal with Manchester United, worth a reported £300,000-a-week.
And Hodgson hopes the stability the player now has with his club side will allow him to produce his best for his country.
"I'm very pleased for him, for United and for us," he added.
"I don't want to go too much down the route that now he won't be distracted because I've got every faith that he would have come to the World Cup with England and been focused whatever the situation.
"But I can't deny that it's tremendous that, so early in the season, he's signed a new contract and committed his long-term future.
"He's probably going to be a two-club man, and most of that will be at Manchester United. It is an advantage, no doubt, and I'm pleased for everyone concerned."