Former director Imran Ahmad fails in bid to ring-fence over £500,000 of Rangers' money
Former Rangers director Imran Ahmad has failed to have a sum of money 'ring fenced' ahead of a compensation hearing.
Last Updated: 25/02/14 6:28pm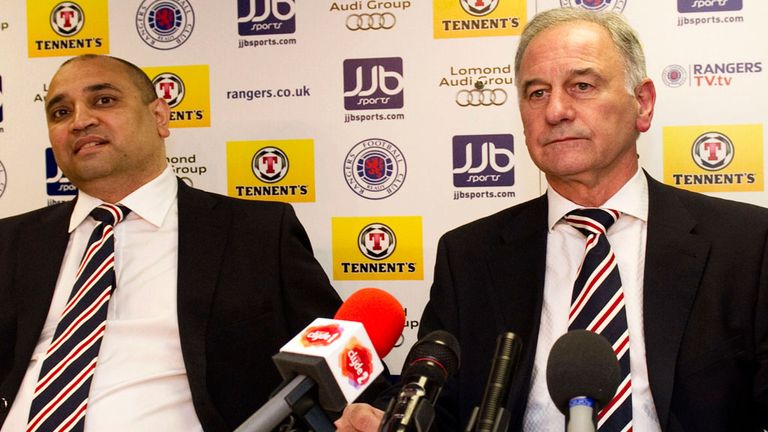 A hearing has been scheduled for April where Ahmad is looking for the cash he claims he was owed from his time at the club under former chief executive Charles Green.
During his 12-month stay at Ibrox, which came to an end in April of last year, Ahmad insists his contract included an entitlement to a bonus of £500,000, which is backed up by a letter from Green promising the money for his part in negotiating commercial deals.
And with Rangers' much-publicised financial difficulties, Ahmad attempted to 'ring fence' over £500,000 claiming the club, who were forced to borrow £1.5m of 'working capital' earlier this week, would be unable to meet any amount should the court find in his favour in April.
Last December current chief executive Graham Wallace warned the money at Ibrox 'could run out by the end of April' and earlier this month the playing squad refused to take a 15 per cent cut in their salaries as he sought to reduce monthly outgoings.
But Rangers mounted a challenge to the claim and at the Court of Session in Edinburgh Lord Tyre found in their favour, insisting the evidence failed to back up Ahmad's assertion that the club's finances were in such a parlous state.
Lord Tyre insisted it would be unreasonable to take such a sum out of circulation just days after they had secured an injection of cash to help with the day-to-day running of the club.
The case is scheduled to begin at the Court of Session in Edinburgh on Tuesday, April 1.