West Brom striker Nicolas Anelka's future uncertain following five-game ban
Nicolas Anelka may have played his last game after he was banned for five matches for performing the 'quenelle' gesture.
Last Updated: 28/02/14 12:40pm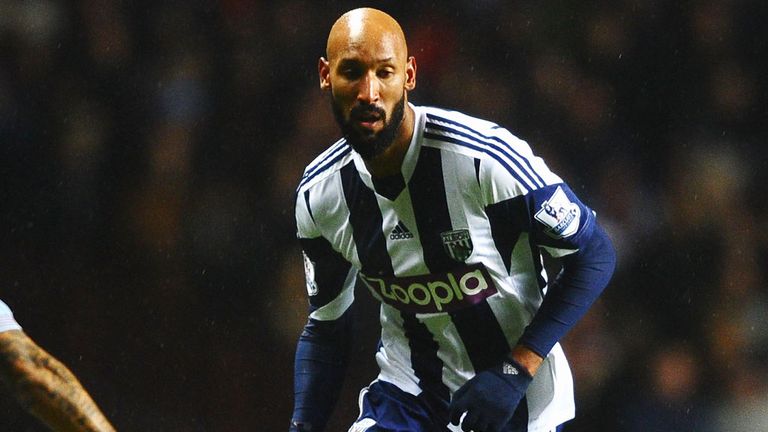 An independent regulatory commission banned the 34-year-old for five matches, fined him £80,000 and ordered him to attend an education course after ruling he did breach the Football Association's code of conduct by making the gesture at West Ham in December.
The 'quenelle' has been associated with anti-Semitism by some French politicians, and the panel also upheld the FA's charge that his rule breach "included a reference to ethnic origin and/or race and/or religion or belief".
Significantly, the ruling cleared Anelka of any anti-Semitic motivation, a part of the verdict which was welcomed by the player, had argues his gesture was anti-establishment, and done in support of his friend Dieudonne M'bala M'bala, the comedian who first brought the 'quenelle' to prominence.
This has not stopped West Brom suspending the 34-year-old pending the outcome of any appeal and the conclusion of their own internal investigation.
And with the Baggies having only 11 more matches to play this season, this could signal the end of the career of Anelka, whose contract with the club ends in the summer and has previously hinted at retirement.
Former FA chief executive Mark Palios believes the suspension will have an impact on Anelka's career and also acts as the chief deterrent against racism.
"At the top of the game it is difficult to impose a financial deterrent which is seen as reasonable when you consider the remuneration these guys get," Palios told Sky Sports News.
"The main deterrent is the extent of the suspension and the knock-on effect on Anelka's employment at his club. It is the impact on his career outside of the specifics of the case."
The five-match ban is the minimum that can be imposed for such an offence and while being welcomed by anti-racism groups it has also been criticised for not going far enough.
Palios believes the punishment will discourage the use of the 'quenelle' gesture in English football but says judgement should be reserved on whether the ruling is seen as a success for the FA's new anti-racism rules, which were introduced last year following criticism of the way the organisation handled cases involving Luis Suarez and John Terry.
If you look at this and the outcome; people will not make the gesture on the pitch, on the platform that is professional football in England, which is televised around the world," added Palios.
"I think it will only be determined a triumph when we see the written reasons and understand why they feel Anelka did not intend to make the gesture and yet found him guilty."