Manchester City manager Manuel Pellegrini will have to serve a two-game touchline ban
Manchester City boss Manuel Pellegrini has been handed a two-game touchline ban.
Last Updated: 28/02/14 9:23pm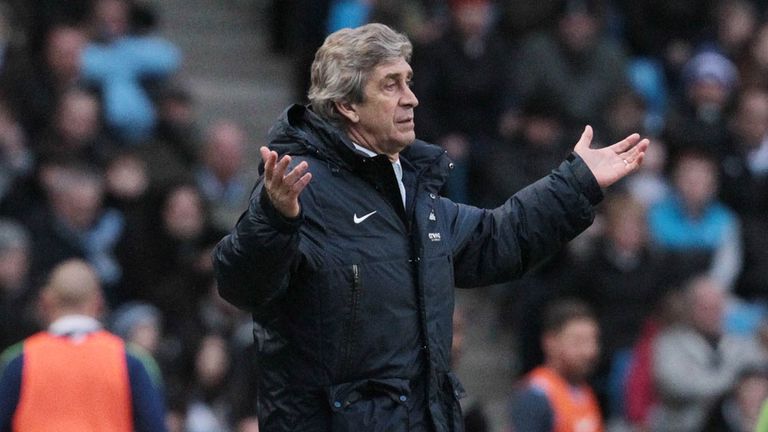 And European governing body UEFA also announced that a further one-match ban for the manager will be suspended for two years.
City were beaten 2-0 by Barca at the Etihad Stadium in the first leg of a Champions League last-16 tie.
And the match turned on an incident in the 54th minute when Swedish referee Jonas Eriksson sent off Martin Demichelis for a penalty-box foul on Lionel Messi, who got up to score the spot-kick and put the visitors 1-0 up.
After the match, Pellegrini was scathing about Eriksson's performance and said: "From the beginning, I felt the referee was not impartial to both teams.
"He decided the game with a foul that he didn't whistle against (on Jesus Navas) and a penalty with Demichelis that was not a penalty, it was outside the box.
"I think it was not a good idea to put a referee from Sweden in charge of such an important match, and a referee who made an important mistake against Barcelona in a previous match (Eriksson turned down strong Barca penalty claims during a 2012 game at AC Milan). Today, he arranged it."
Boss apologises for comments
Pellegrini recovered his poise a couple of days later and expressed remorse for his remarks, saying: "When you lose the game in the way we did, you are angry and frustrated.
"I am sure this is a good referee, because UEFA is always evaluating all the referees and, if he is not a good referee, he is not in the UEFA staff.
"Maybe I said something that I don't think. I apologise for what I said."
However, hours after issuing the apology, he was charged by UEFA for "violation of the general principles of conduct".
And the Chilean boss will start his two-match ban when his team plays the second leg in Spain on 12 March, with the suspended game to be imposed if he breaches the misconduct rules again in the next two years.
A UEFA statement read: "UEFA's Control and Disciplinary Body has banned Manchester City FC head coach Manuel Pellegrini for three UEFA competition games, one of which is under probation for two years.
"This means that Pellegrini may follow the game from the stands only. He may not enter the dressing room, tunnel or technical area before or during the match, and he may not communicate directly or indirectly with his players and/or technical staff during the game."
Pellegrini has the right of appeal against his punishment.